產品配置 Caterpillar S61 Specifications
認證 Certification Standard
IP68 防水防塵 Waterproof, Dust proof
MIL-STD-810G 軍規認證 Military Standard
防水深度 Ingress Protection
3 米內 (浸泡時間最長 60 分鐘)
Depth of 3m underwater for up to 60 minutes.
基本資料 Basic Information
型號 Model:Caterpillar S61
顏色 Color:黑色 Black
系統 System:Android 8.1
處理器 CPU:8 Core Qualcomm Snapdragon 630 up to 2.2GHz
記憶體 RAM:4GB
容量 Storage:64GB (最高支援 Support 200GB SD Card)
電池 Battery:4500mAh
支援快速充電 Support QC 4.0 Quick Charging,
支援逆向充電 Support Reverse Charging,
最長37日待機 Up-to 37 Days Standby
屏幕 Display
呎吋 Size:5.2吋 Inch
解析度 Resolution:1920 X 1080
技術 Technology:IPS
康寧大猩猩玻璃Corning® Gorilla® Glass 5
相機 Camera
後置相機 Rear Camera
16MP 主鏡頭 Main
熱感相機 Intergrated FLIR thermal camera
前置相機 Front Camera
8MP 自拍鏡頭 Selfie
連接 Connectivity
制式 Cellular:4G / 3G / 2G
卡槽 SIM slot:SIM 1 + SIM 2 / MicroSD
NFC:支援 Support
Wifi:2.4GHz / 5GHz
Bluetooth:5.0
尺寸 Dimensions
尺寸 Size:163 x 78 x 13 mm
重量 Weight:250g
功能 Features
指紋解鎖 Support Fingerprint Unlock,
快捷鍵 Customized Keys
PTT / SOS
感應器 Sensors
室內空氣質量傳感器 Indoor Air Quality Sensor (humidity & temperature),
雷射測距 Laser Assisted Distance Measure

包裝內容 Package Contects
1 x Caterpillar S61,
1 x 充電器 Charger,
1 x 電源線 USB Cable,
1 x SIM卡針 SIM Pin,
1 x 用戶指南 User Guide,
1 x 保養卡Warranty Card

保養 Warranty
一年代理保養 One Year Warranty
備註 Remarks
落單前請先與我們確認庫存 (型號 / 容量 / 顏色)
Please contact us before placing an order. Thank you.
Thermal Imaging Camera
Use the integrated thermal imaging camera of the Cat S61 to monitor and diagnose problems more quickly and save time on site.
Locate a heat source up to 400°C, even in complete darkness, and diagnose damp, draught, leak, a short or blockages.
Just tap the MyFLIR app on the device to get started.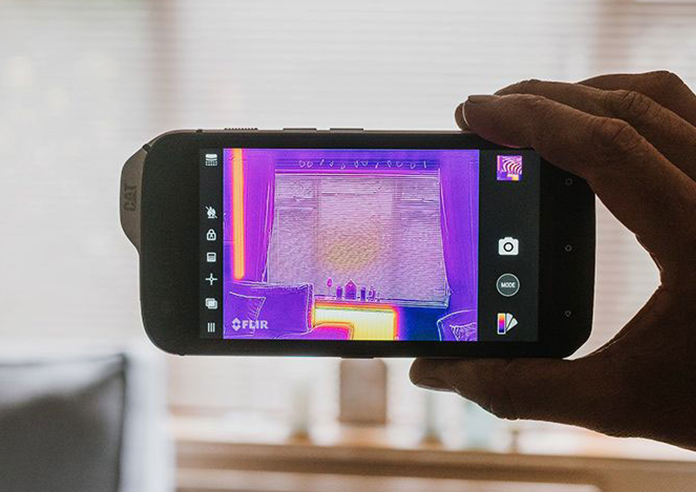 Thermal imaging camera
The integrated FLIR® thermal imaging camera on the Cat® S62 Pro smartphone can be used to monitor and diagnose problems more quickly and save time on site. It provides a new perspective and opens up new use cases, including: detecting heat loss around windows and doors; spotting moisture and missing insulation; identifying over-heating electrical appliances and circuitry; and seeing in complete darkness.
The Cat S62 Pro is powered by the highest resolution FLIR lepton available today, the FLIR Lepton 3.5 professional-grade sensor, which brings a huge 4x increase in the number of thermal pixels. Combined with FLIR's VividIR technology, the Cat S62 Pro delivers enhanced image quality, sharper image and higher thermal resolution.
Just tap the MyFLIR app on the device to get started.
LASER ASSISTED DISTANCE MEASURE
Measure distances and area using the Measure app on the Cat S61. Safely document measurements and record the layout of an area all in one screen, helping to make work estimates quicker and easier. Tap the Measure app on the device to get going.
INDOOR AIR QUALITY MONITOR
The handy Air app measures the quality of the air you are working in when indoors.
It will alert you to unhealthy levels of indoor air pollutants, like paints and solvents,
and provides temperature and humidity readings.