Pixel 7 vs Pixel 7 Pro
產品配置 Google Pixel 7 Specifications
認證 Certification Standard
IP68 防塵抗水 IP68 Water and Dust Resistance
基本資料 Basic Information
型號 Model:Google Pixel 7
顏色 Color: 黑色 Black, 綠色 Green, 白色 White
系統 System:Android 13
處理器 CPU:Google Tensor G2™ 安全性輔助處理器
記憶體 RAM:8GB
容量 Storage:128GB, 256GB
記憶卡 SD Card:不支援 Not Support
電池 Battery:4355mAh
支援快速充電 Support 30W Fast Charging,
支援逆向充電 Support Reverse Charging,
支援無線充電 Support Wireless Charging,
支援無線逆向充電 Support Reverse Wireless Charging
屏幕 Display
呎吋 Size:6.3吋 Inch
解析度 Resolution:2400 x 1080
- 亮度最高可達 1000 nit (高動態範圍) 和 1400 nit (峰值亮度)
Up to 1000 nits (HDR) and up to 1400 nits (peak brightness)
- 90Hz 刷新率 Refresh Rate
- OLED 流暢顯示螢幕 Smooth Display
- 康寧大猩猩玻璃 Corning® Gorilla® Glass Victus
- 持續待機螢幕,並含資訊一覽和聽聲辨曲功能
Always-on display with At a Glance and Now Playing
相機 Camera
後置相機 Rear Camera:
50MP 廣角鏡 Wide Camera
12MP 114°超廣角 Ultrawide Camera
LDAF (雷射偵測自動對焦) 感應器
前置相機 Front Camera
10.8MP 自拍鏡頭 Selfie
連接 Connectivity
制式 Cellular:5G / 4G / 3G / 2G
[ 5G 網絡在香港不能使用 Can not use 5G network in HK ]
卡槽 SIM slot:單卡槽 1 SIM slot (Single Nano SIM and eSIM)
耳機插槽 Earphones Jack : Type-C
NFC:支援 Support
Wifi:2.4GHz + 5GHz + 6GHz
Bluetooth:5.2
其他功能 Other Features
立體聲喇叭 Stereo speakers,
3 個麥克風 3 microphones,
雜訊抑制 Noise suppression,
抗指紋塗層 Fingerprint-resistant coating,
享有 5 年的 Pixel 更新服務 5 years of Pixel Updates,
指紋解鎖 Support Fingerprint Unlock,
面部解鎖 Support Face Unlock
尺寸 Dimensions
尺寸 Size:155.6 x 73.2 x 8.7mm
重量 Weight:197g

包裝內容 Package Contects
1 x Google Pixel 7,
1 x 數據線 USB-C to USB-C cable,
1 x 快速轉移轉接頭 Quick Switch Adapter,
1 x 用戶指南 Quick Start Guide,
1 x SIM卡針 SIM Tool

保養 Warranty
七天購物保障 7 Days Guarantee
一年有限保固 One Year Limited Warranty
備註 Remarks
落單前請先與我們確認庫存 (型號 / 容量 / 顏色)
Please contact us before placing an order. Thank you.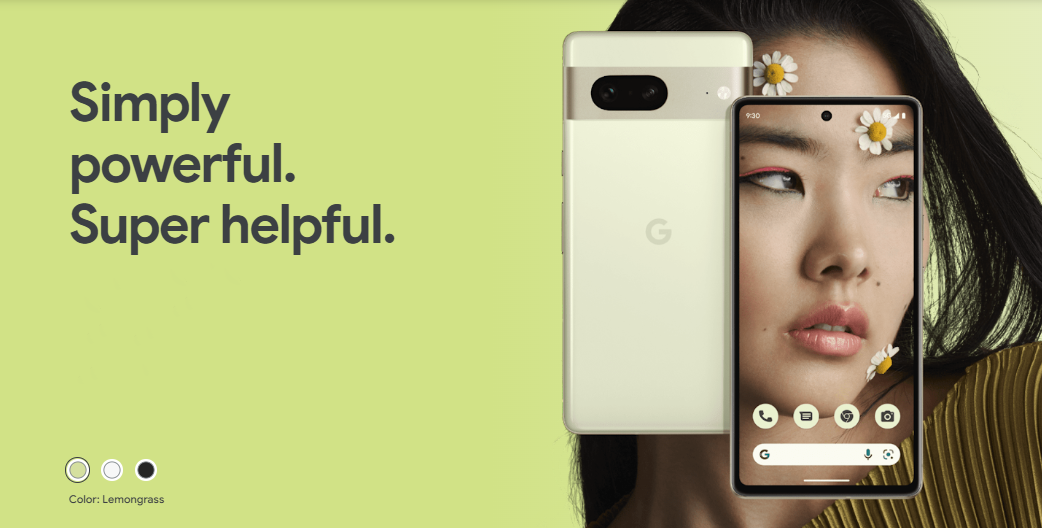 It's fast and secure, with an advanced camera and amazing battery.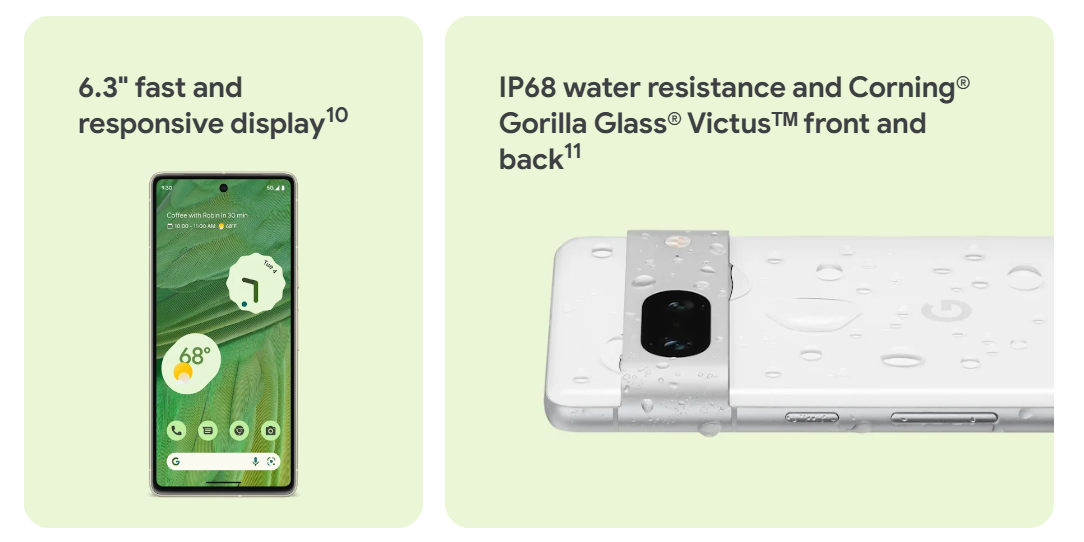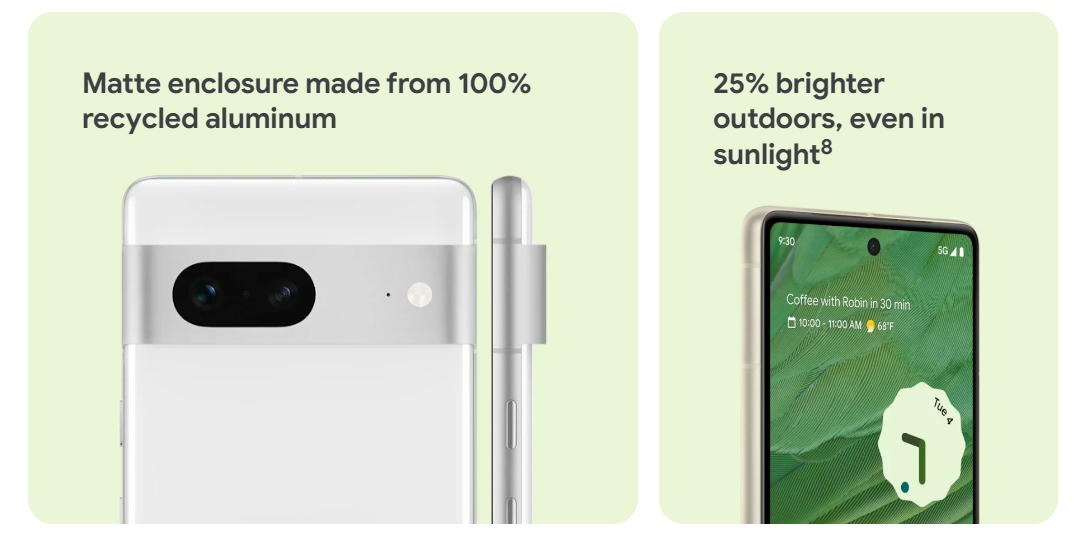 Performance
Everyday moments made easier.
Pixel 7 is super fast and responsive, with an adaptive battery and so much more.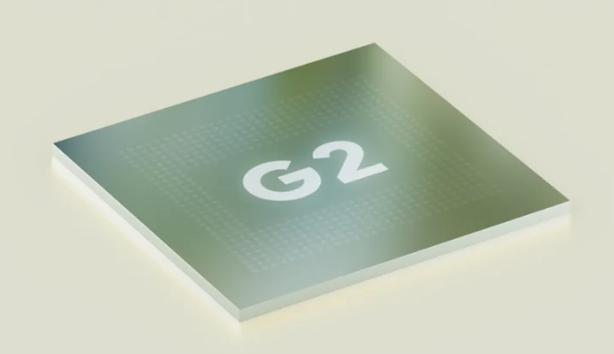 By Google for Pixel
The chip behind it all.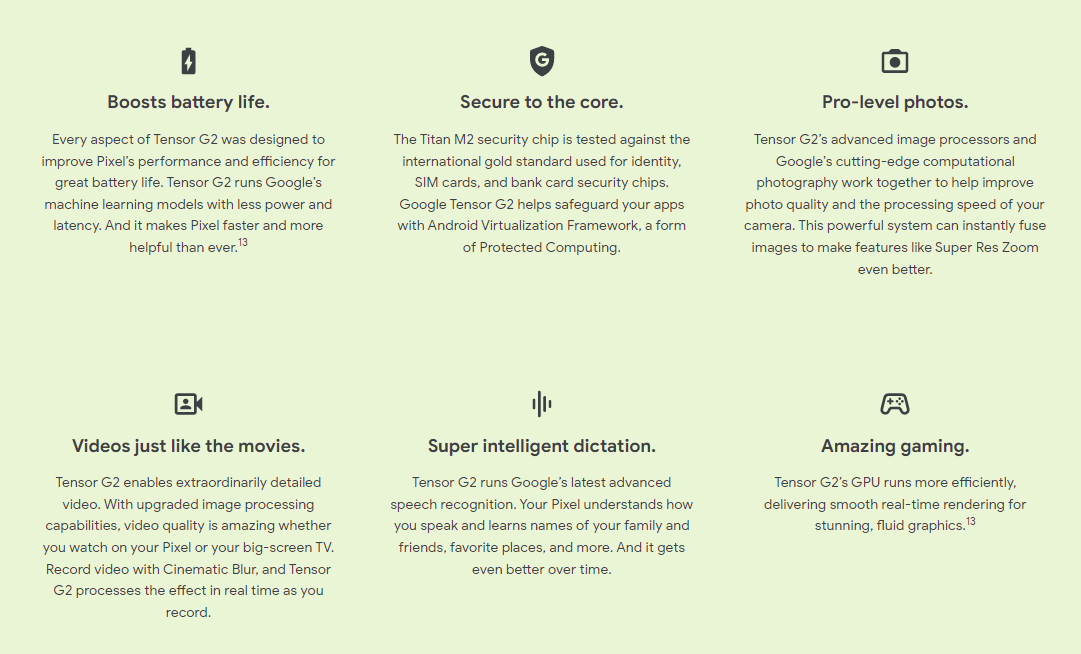 All-day battery that can last three days.
Pixel's Adaptive Battery can last over 24 hours – and up to 72 hours when you turn on Extreme Battery Saver.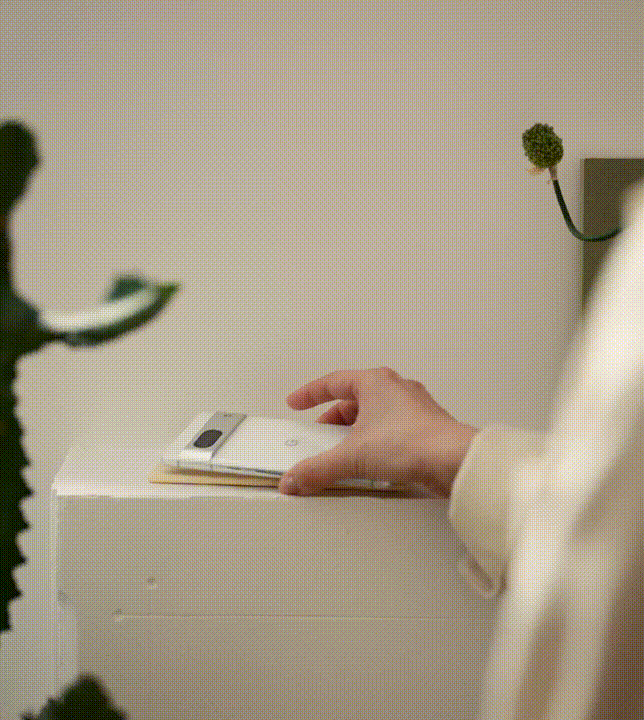 Hear callers when they're in a noisy place.
Pixel helps to filter out the noise and enhances their voice with clear calling. Focus on the conversation, not the crowd.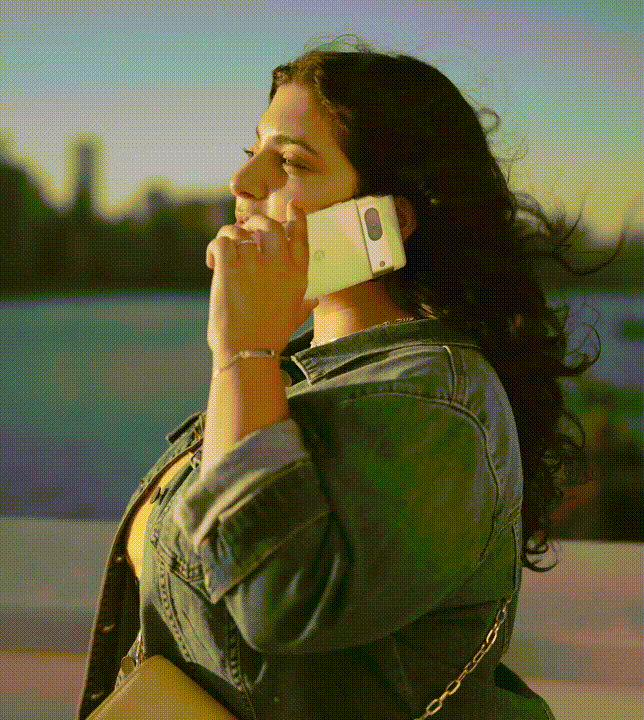 What you need, when you need it.
At a Glance helps to show you useful info you need at the right time, like weather alerts, a package delivery at the door, or an event reminder.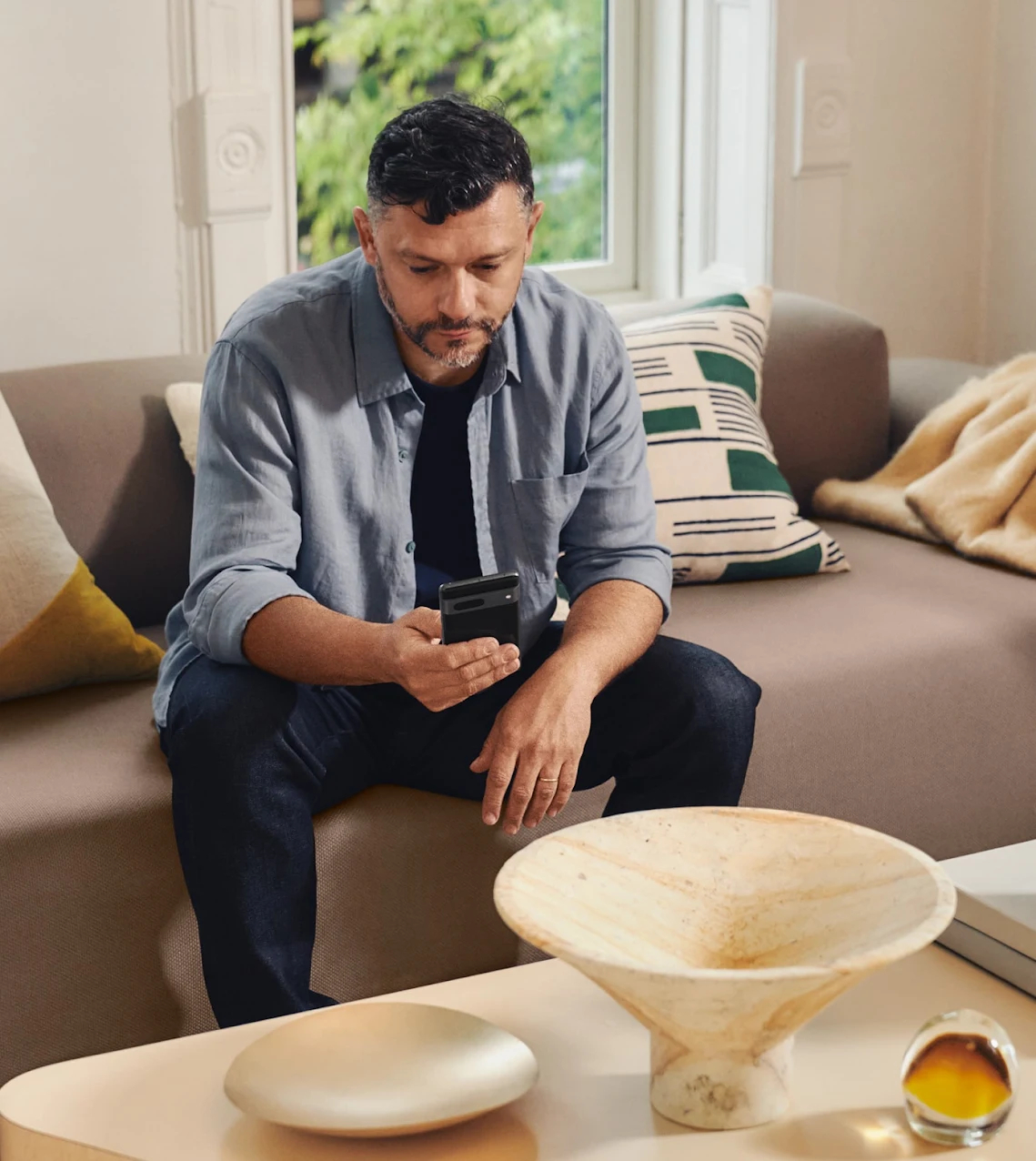 Translate languages in real time.
With Live Translate, you can interpret face-to-face conversations in 48 languages, chat in real time, and translate menus with your camera.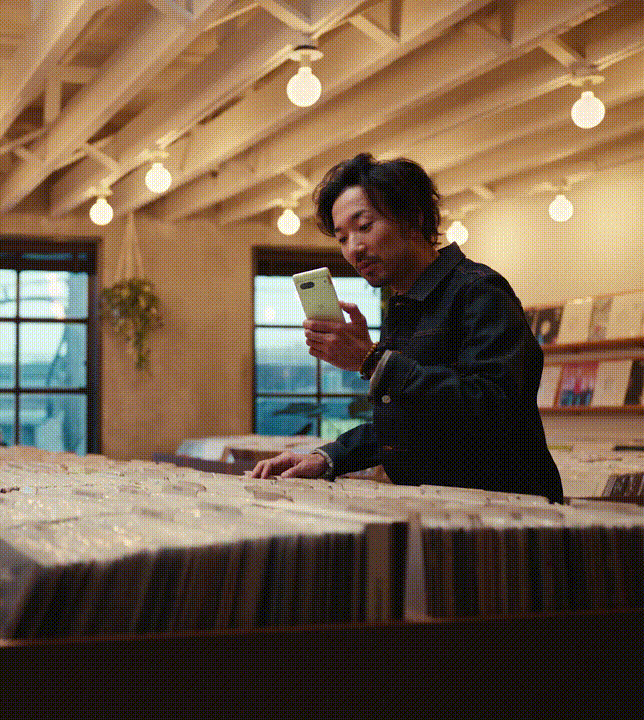 Photography and video
All-around incredible photos and videos.
Pixel 7's dual rear camera system helps you capture memories in stunning 4K color and detail. And with Cinematic Blur, you can now bring incredible quality to your videos.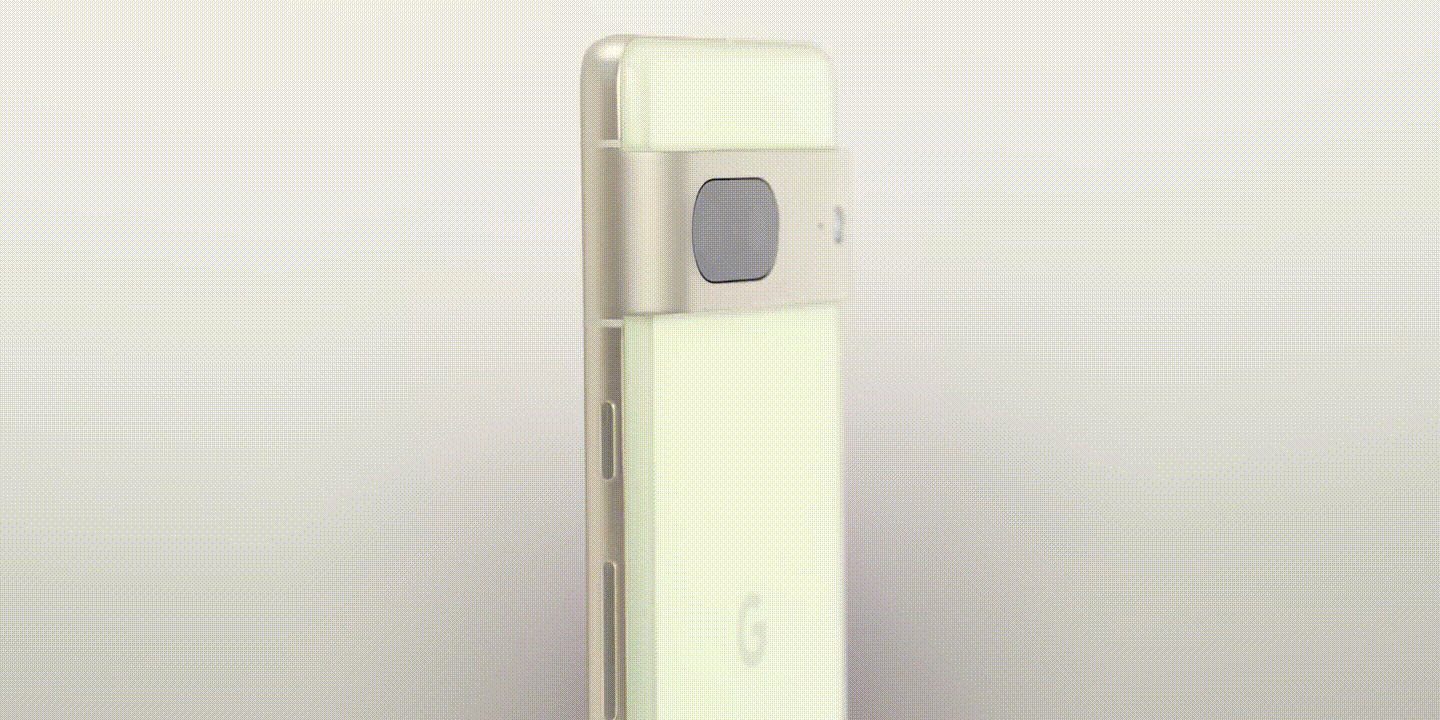 Hello, Hollywood.
Bring more drama to video. Cinematic Blur keeps your subject in focus and blurs the background for a dramatic effect.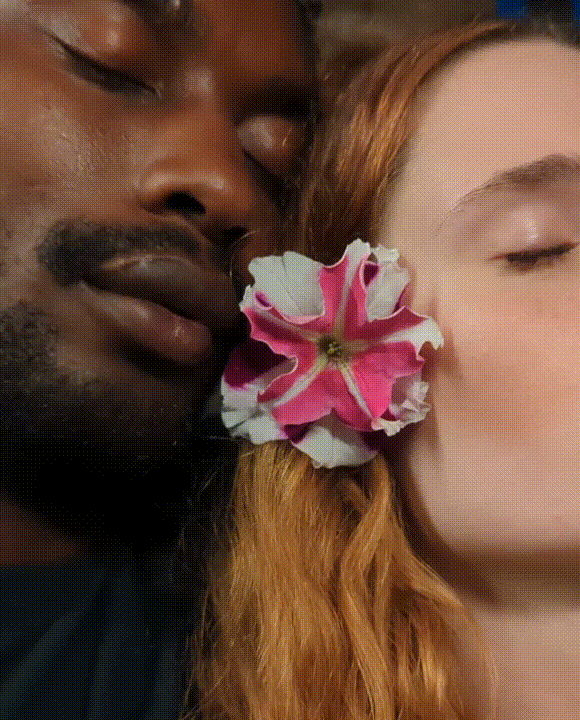 Fit more friends in the frame.
The front-facing camera now has a 92.8° ultrawide field of view for group selfies and epic backdrops. And with its bigger sensor and sharper lens, it provides better low-light photography – you can even document it all in 4K resolution.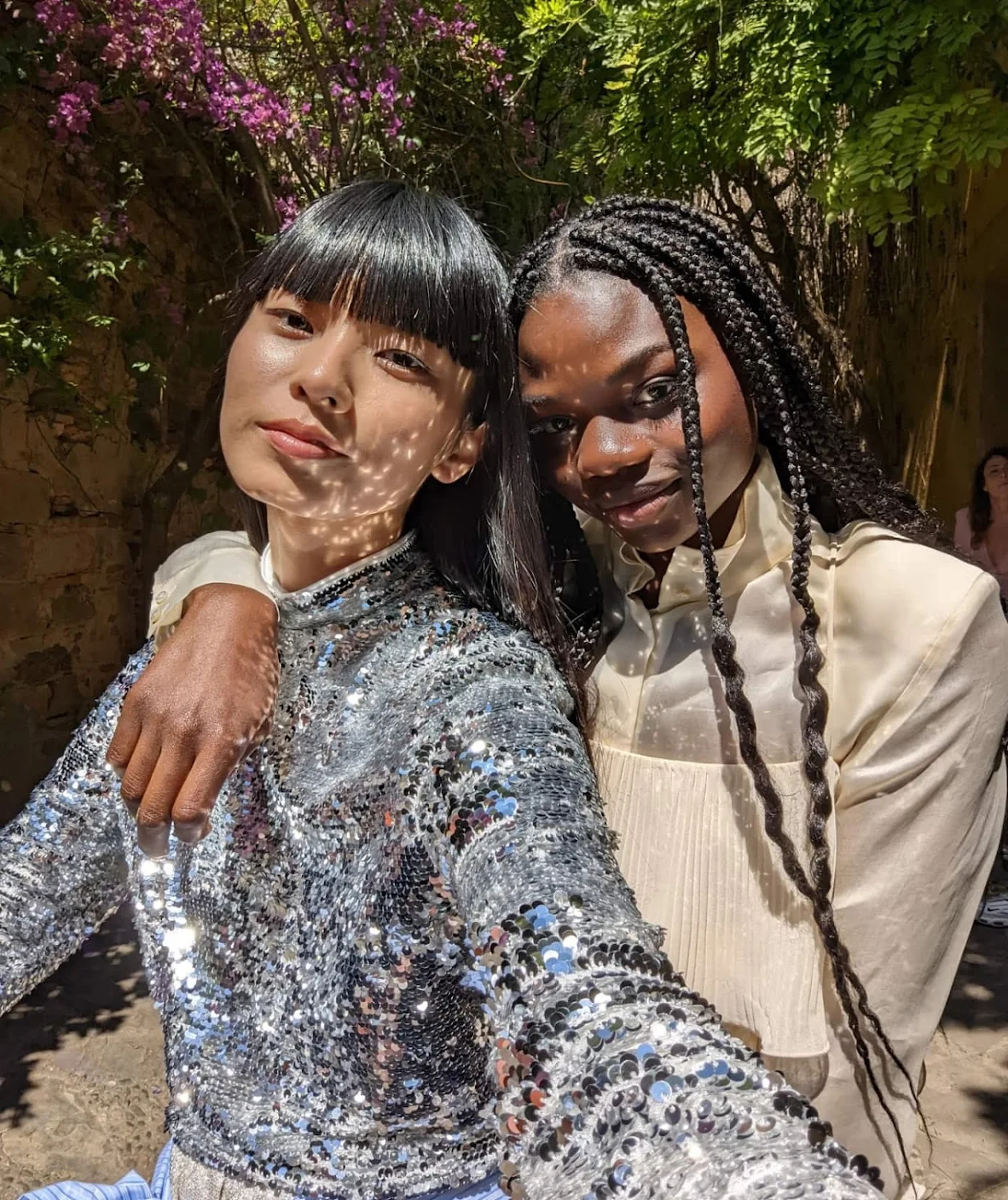 Zoooooooooom.
Super Res Zoom image quality is similar to a dedicated 2x optical zoom, and can go up to 8x for high-quality photos from far away.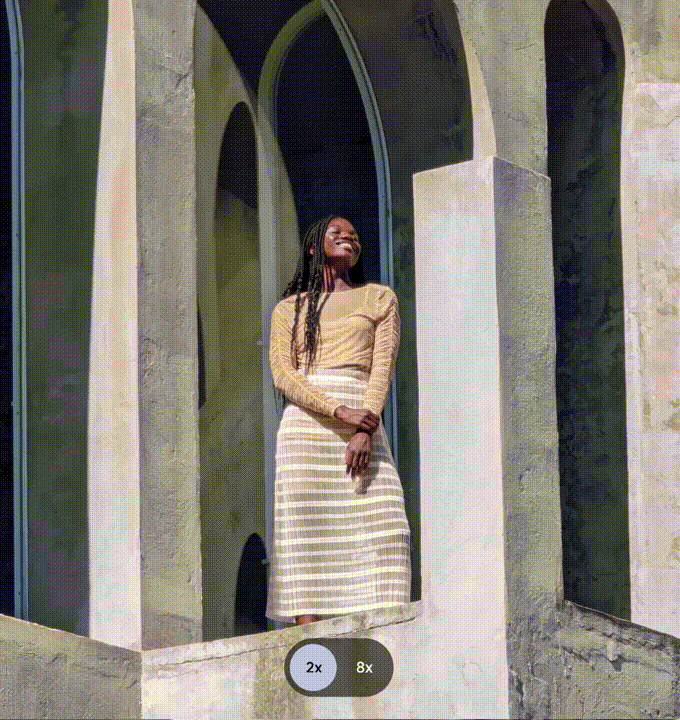 The photo you imagined in just a tap.
With Photo Unblur, sharpen images in Google Photos with just a tap. And with Magic Eraser, remove distractions, like photobombers. Or change colors and brightness so an object blends right in.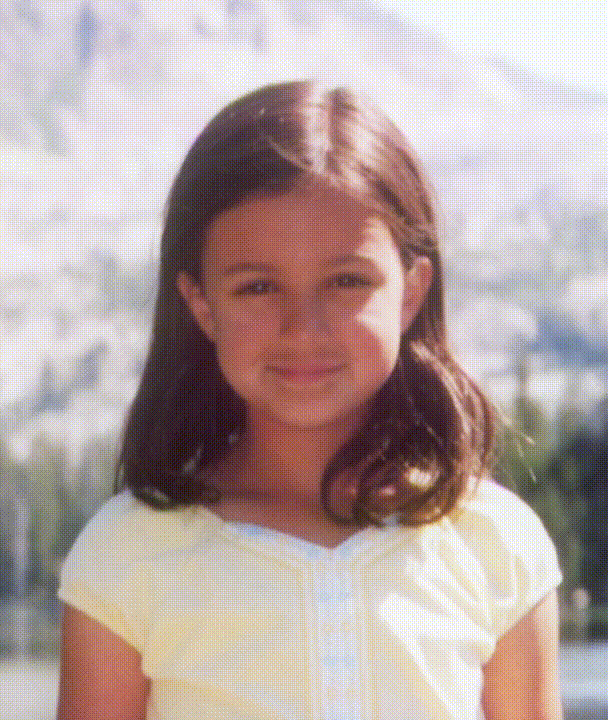 Selfies for everyone.
Guided Frame helps people with low vision take the best selfies. It uses audio and haptics to ensure a face is right in frame.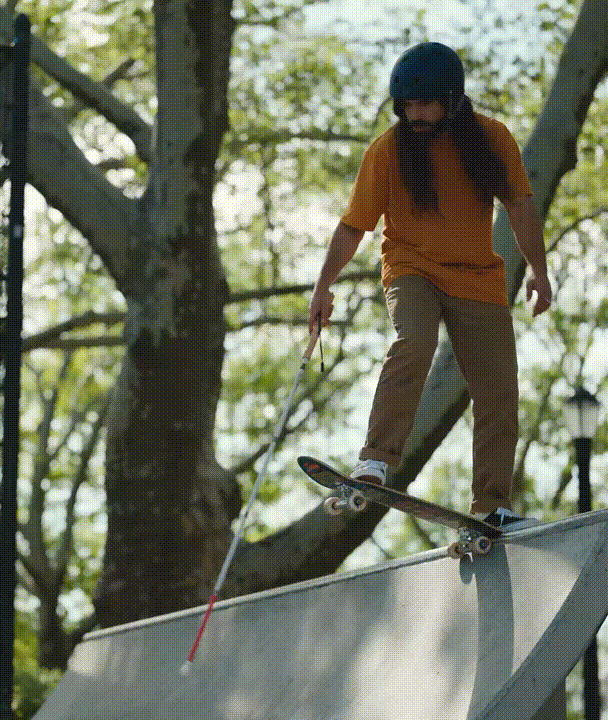 Feel seen with Real Tone.
Real Tone represents the nuances of more skin tones beautifully, authentically, and accurately – even in low-light photography.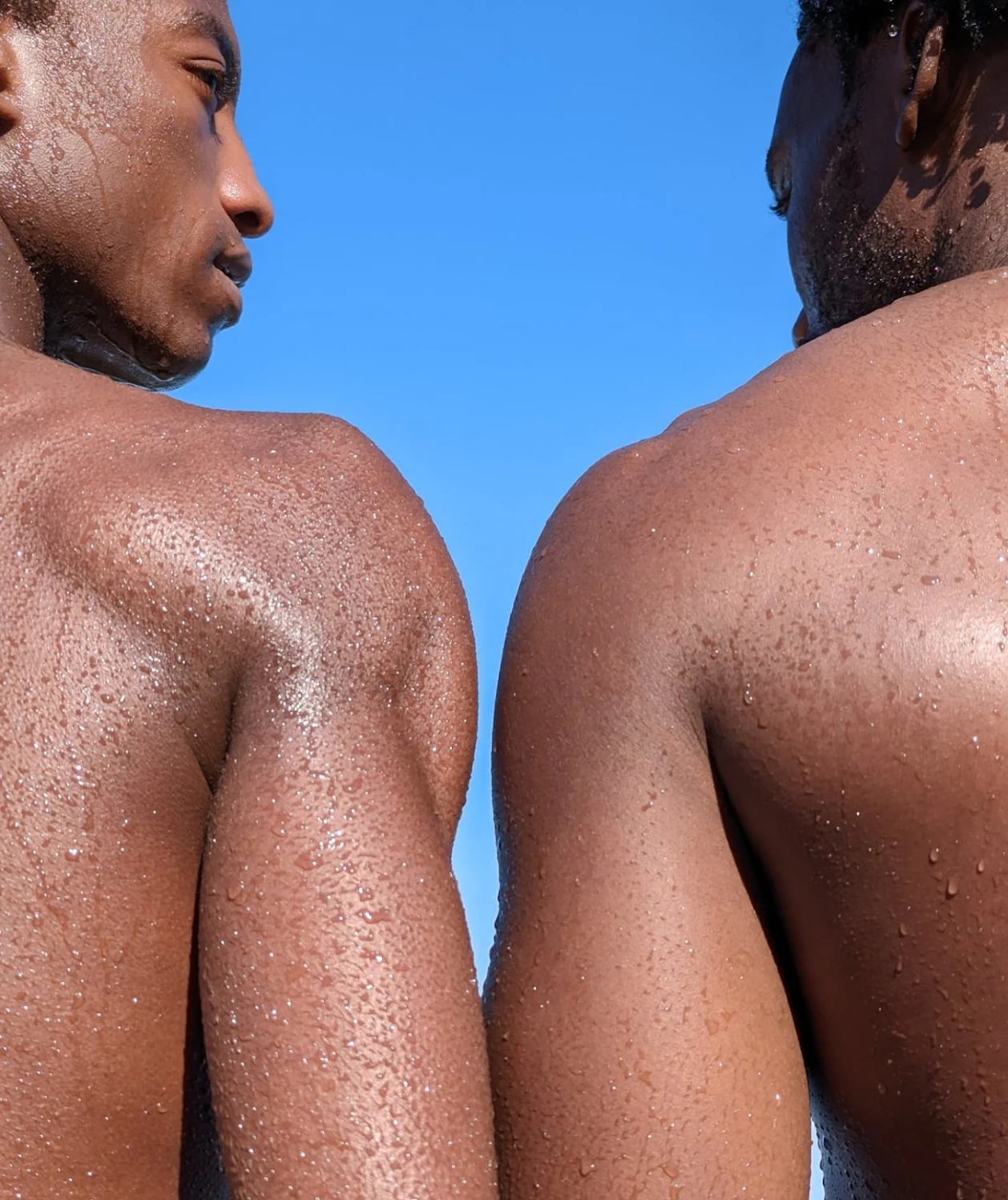 Protection
Secure to the core.
Google's Titan M2 chip is tested against some of the same rigorous protection guidelines trusted for identity, SIM cards, and bank card security chips.
Built-in VPN for peace of mind when you're online.
With a VPN by Google One, Pixel helps to protect your online activity no matter what app or browser you use. Coming soon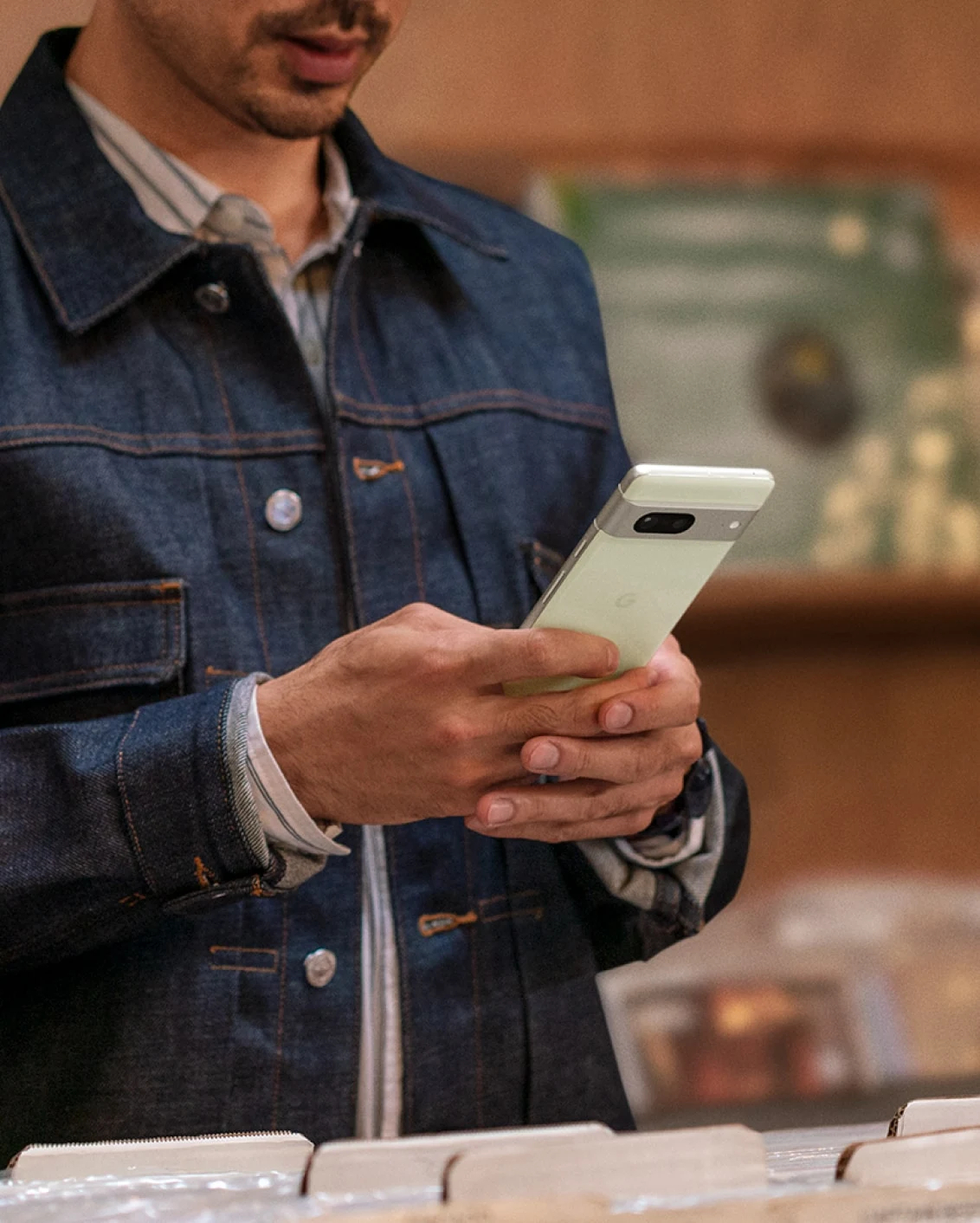 Titan M2 helps keep you and your info safe.
Google's Titan M2 chip is tested against some of the same rigorous protection guidelines trusted for identity, SIM cards, and bank card security chips.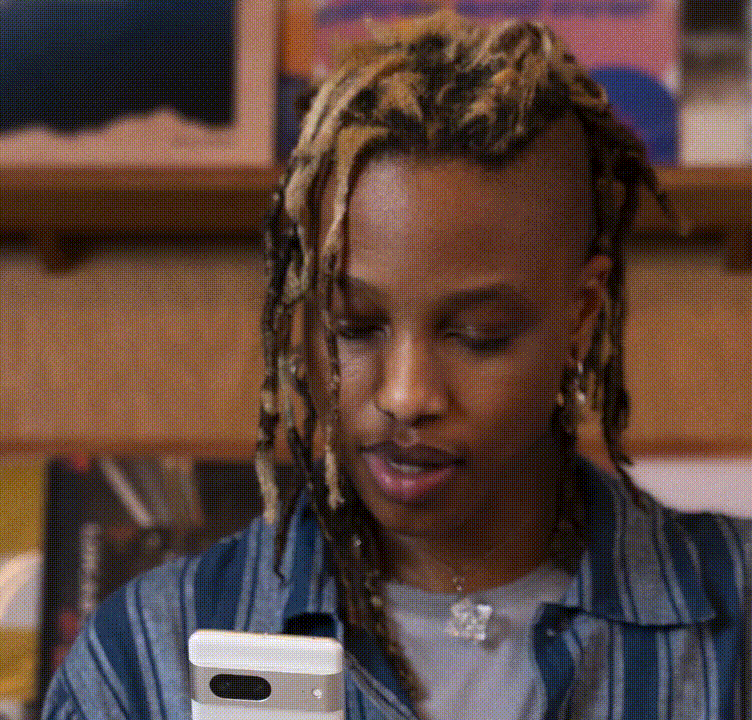 Unlock with your face or fingertips.
With Face Unlock, just glance at Pixel to unlock it quickly and easily. Or with Fingerprint Unlock, simply tap it.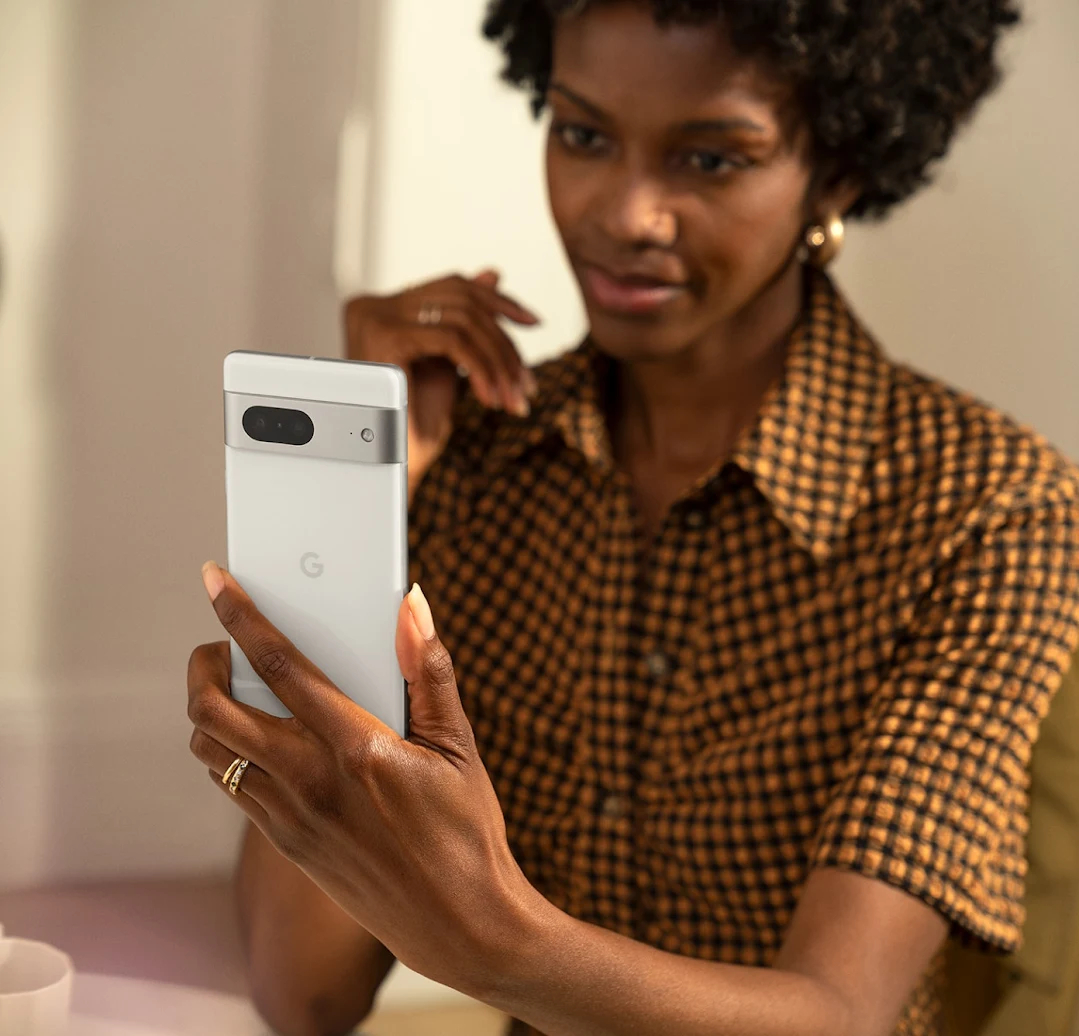 Emergency help when you need it.
With the Personal Safety app, Pixel can automatically call for help, share your location, or record a video.