產品配置 Red Magic 7s Pro 5G Specifications
基本資料 Basic Information
型號 Model:Red Magic 7s Pro 5G
顏色 Color:黑色 Obsidian, 透明黑 Supernova, 透明銀 Mercury
系統 System:Android 12
處理器 CPU:8 Core Snapdragon 8+ Gen 1 up to 3.2GHz
記憶體 RAM:12GB, 18GB
容量 Storage:256GB, 512GB
記憶卡 SD Card:不支援 Not Support
電池 Battery:5000mAh
支援快速充電 Support 65W Quick Charging
屏幕 Display
呎吋 Size:6.8吋 Inch
解析度 Resolution:2400 x 1080
技術 Technology:AMOLED, 600 nits
120Hz 刷新率 Refresh Rate
960Hz 觸控刷新率 Touch Sampling Rate
低藍光認證 SGS Certification Low Blue Light For Eye Comfort
康寧大猩猩玻璃 Corning Gorilla Glass 5
相機 Camera
後置相機 Rear Camera
64MP 主鏡頭 Main
8MP 超廣角 Ultra Wide
2MP 微距 Marco
前置相機 Front Camera
16MP 自拍鏡頭 Selfie
連接 Connectivity
制式 Cellular:5G / 4G / 3G / 2G
卡槽 Card Slot:SIM 1 + SIM 2
耳機插槽 Earphones Jack:3.5mm
NFC:支援 Support
Wifi:WiFi6 802.11ax
藍芽 Bluetooth:5.2
尺寸 Dimensions
尺寸 Size:166.27 x 77.1 x 9.98 mm
重量 Weight:235g
功能 Features
DTS : X Ultra 環繞音效,
肩部按鈕 520Hz Shoulder Trigger Buttons,
高速離心風扇 20,000 RPM High-speed Turbo Fan,
背部燈效 RGB Light : 自定義燈效 Fully Customizable Light Effects,
指紋解鎖 Support Fingerprint Unlock,
面部解鎖 Support Face Unlock

包裝內容 Package Contects
1 x Red Magic 7s Pro 5G,
1 x 充電器 Charger,
1 x 電源線 USB Cable,
1 x 保護套 Phone Case,
1 x SIM卡針 SIM Pin,
1 x 用戶指南 User Guide

保養 Warranty
七天購物保障 7 Days Guarantee
一年有限保固 One Year Limited Warranty
備註 Remarks
落單前請先與我們確認庫存 (型號 / 容量 / 顏色)
Please contact us before placing an order. Thank you.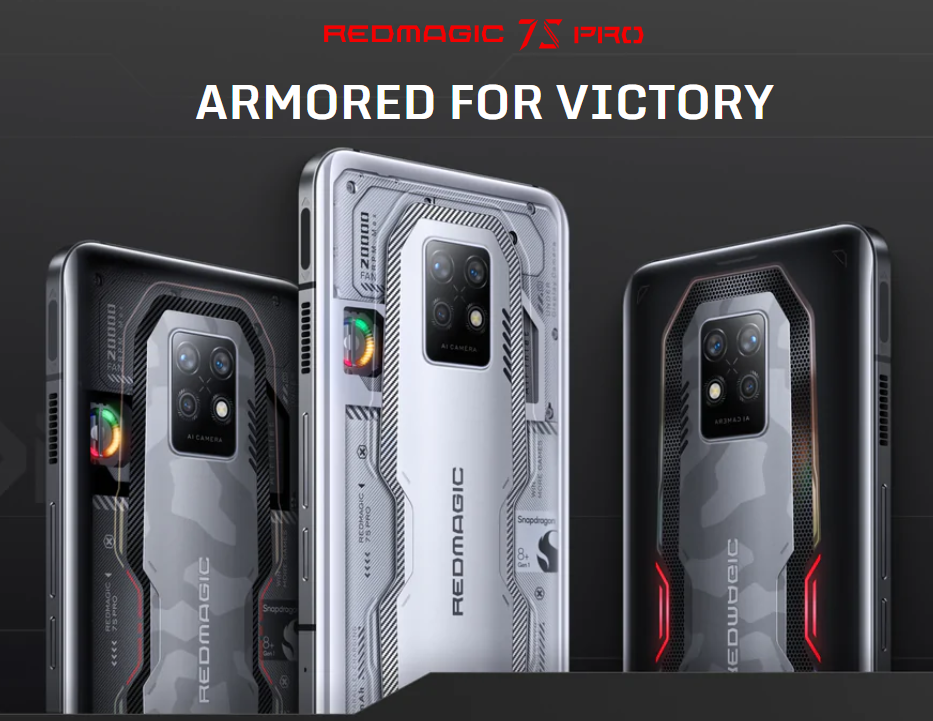 The most powerful chip to ever grace our smartphone.
An unrivaled cooling experience.
Zero-throttling performance.
A no-notch display.
And enough juice to power you through the day.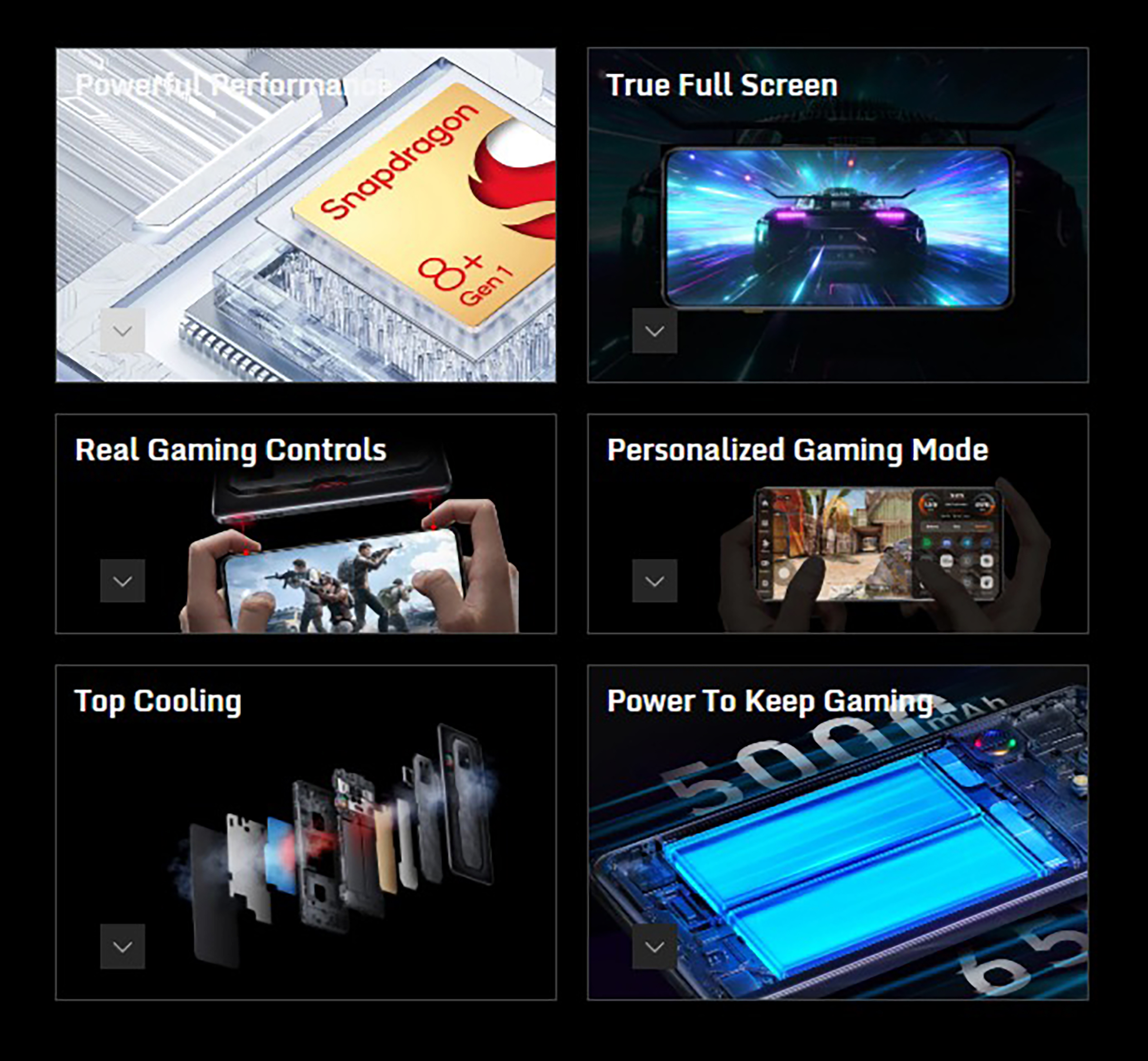 DESIGN
The universe is yours for the taking with the REDMAGIC 7S Pro. Show off the awesome power of your favorite REDMAGIC gaming smartphone with its transparent back and fun RGB LED lights.
REDMAGIC's first transparent silver design to show off it's awesome features and to give every gamer the ultimate gamer look.
Mercury: 18+512GB
POWERFUL PERFORMANCE
Nothing says badass like REDMAGIC 7S Pro. Under the hood lies the new Snapdragon 8+ Gen 1 processor with a fully upgraded GPU and CPU, giving you the best of the best in power and performance.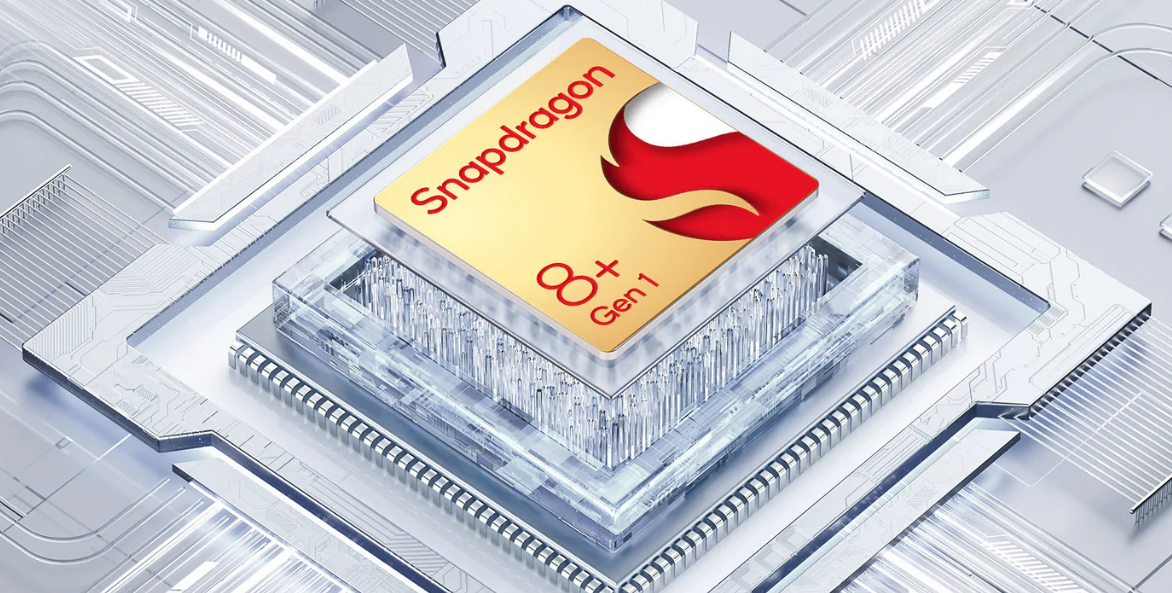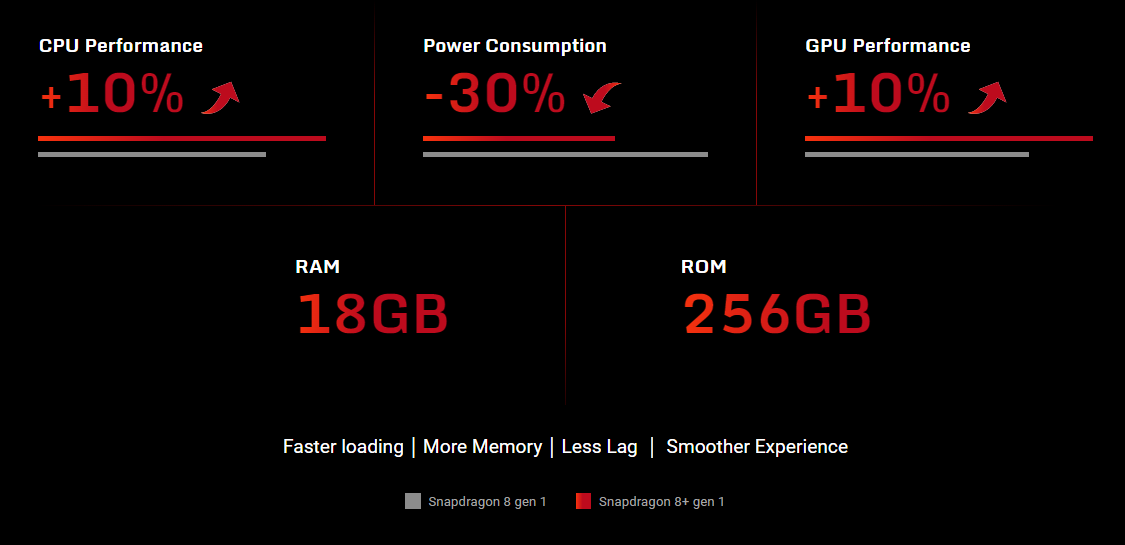 MAGIC GPU
Frame stabilization technology developed and perfected by REDMAGIC for uninterrupted gaming.

GAME COMPARISON VIDEO
Say goodbye to stuttering as you play your favorite games for hours on end. With everything working in unison, the REDMAGIC 7S Pro offers unparalleled frame stability for even the most demanding of games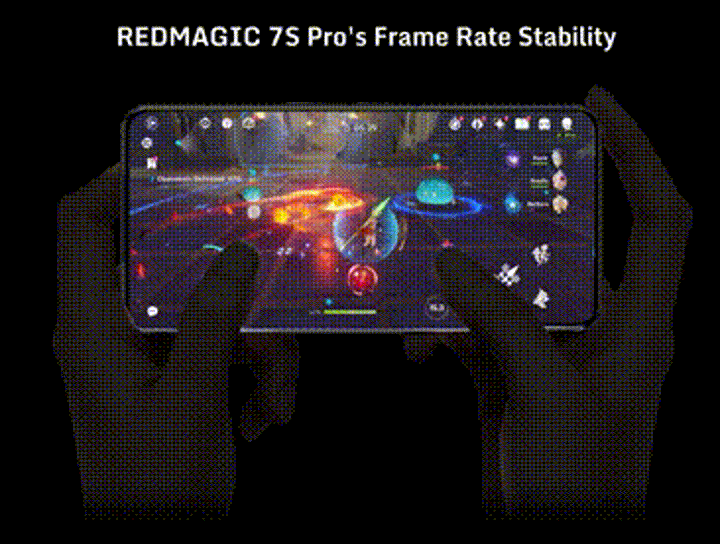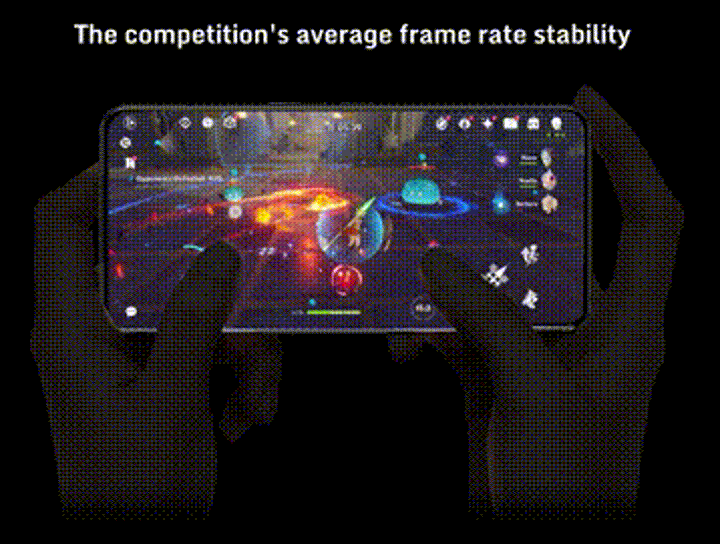 MAGIC BOOST
Share files 10x faster and install the latest games and updates 30% faster thanks to REDMAGIC Read and Write.
10% performance boost across the board due to the REDMAGIC 7S Pro's RAM Boost Technology.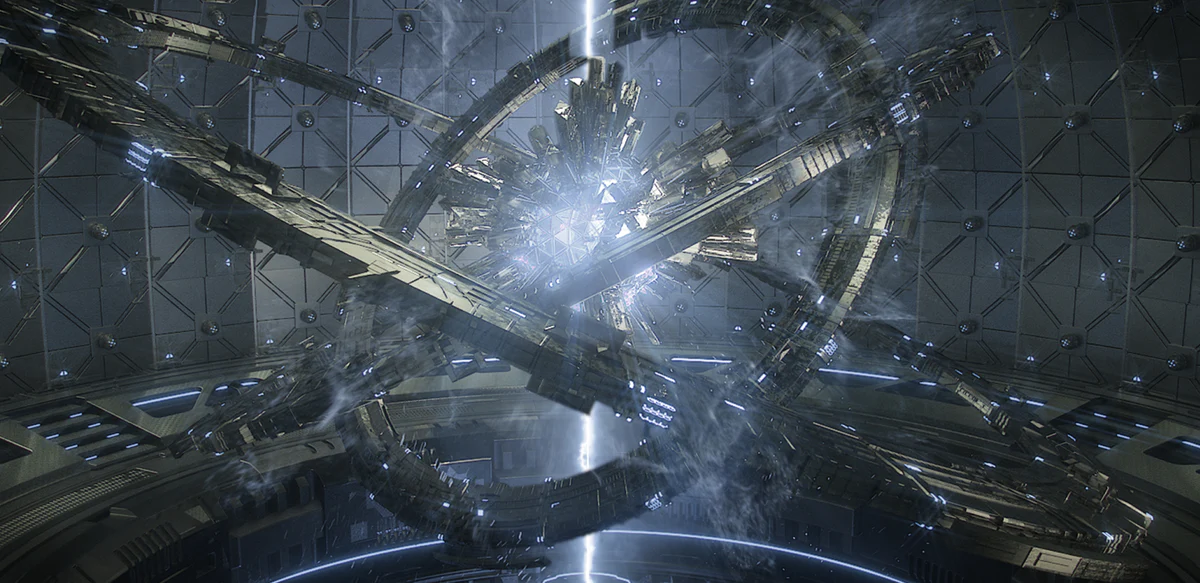 NO NOTCH DISPLAY
Enjoy your games with our true full screen 6.8" FHD AMOLED. Immerse yourself into your games with the display's 120Hz refresh rate and unparalleled responsiveness at 960Hz touch sampling.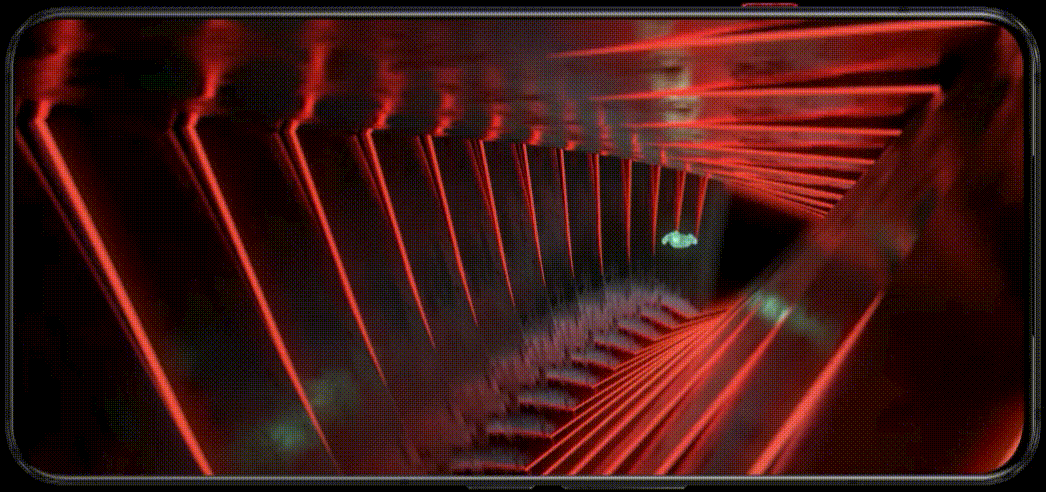 6.8" True Full Screen
120Hz Refresh Rate
DC Dimming
DCI-P3 100% Wide Color Gamut
FHD+ 1080*2400 AMOLED
960Hz Multi-finger Touch Sampling Rate
HOW WE MAKE IT FULL SCREEN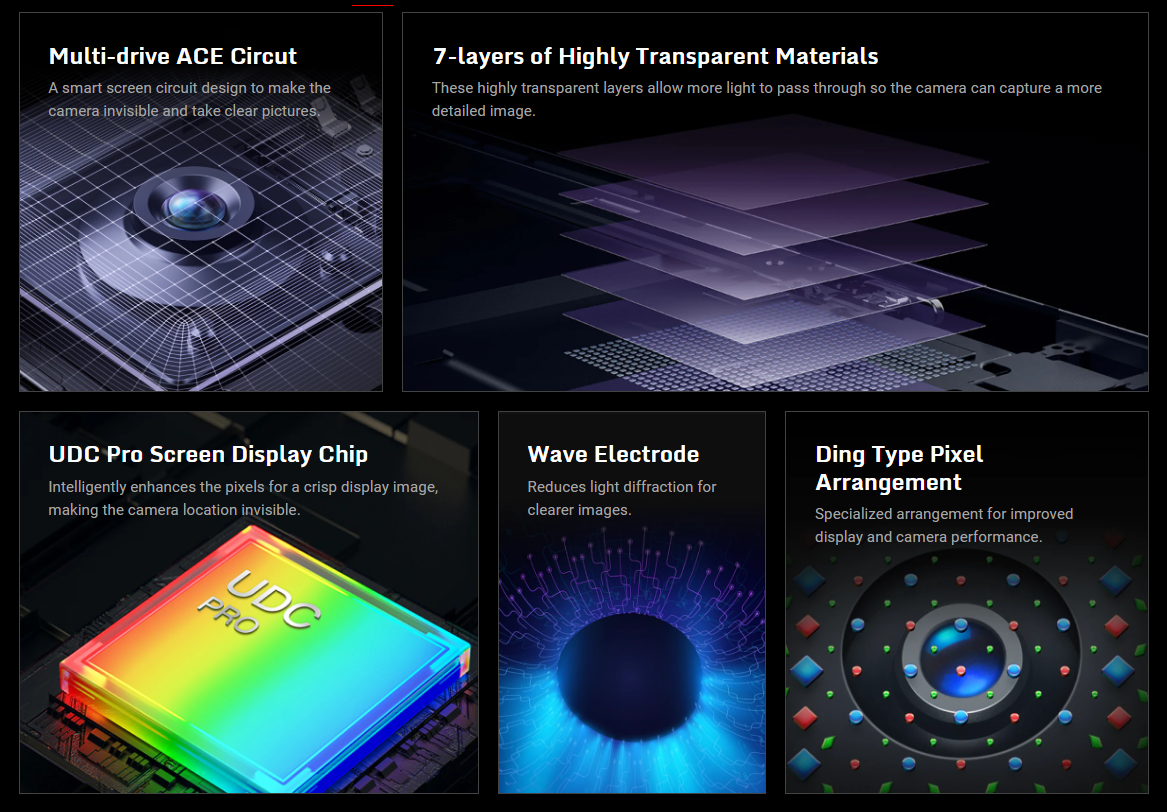 TOUCH FOR GREATNESS
REDMAGIC 7S Pro brings you a whopping 960Hz touch sampling rate which is exactly what you need to be the champion in any high intensity mobile game. The result? Instant finger-to-screen interaction, super high responsiveness with zero delays.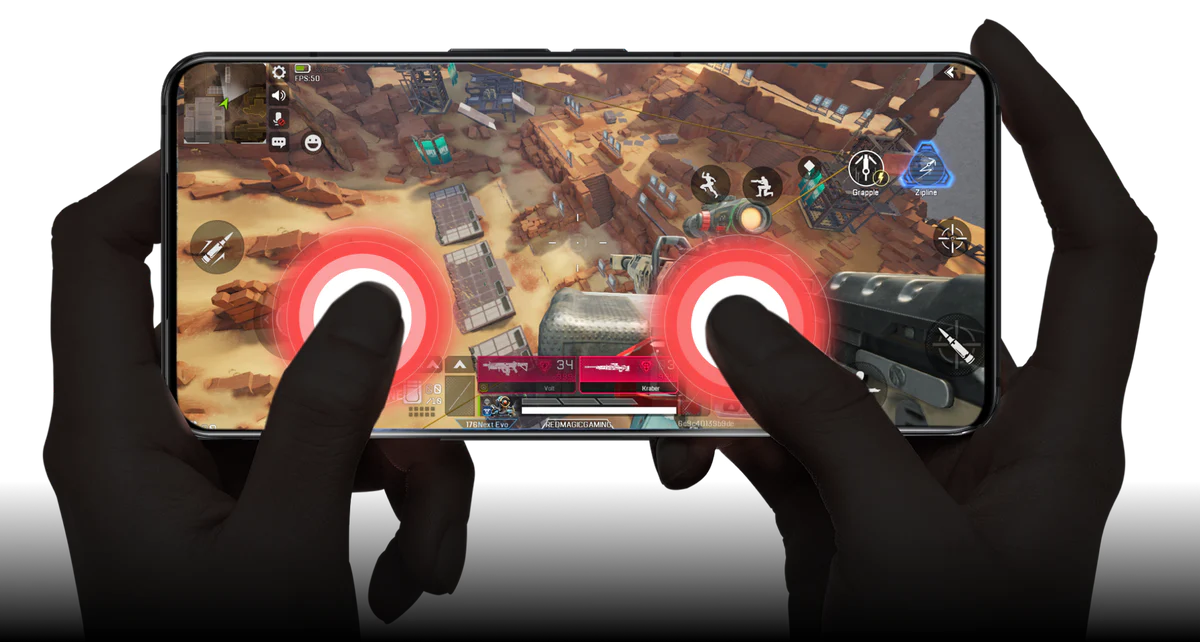 COOLING
The key to top performance is more than just raw power, it's also staying cool under pressure and no one does it better than REDMAGIC.
STAYING COOL FOR MAXIMUM PERFORMANCE
Tired of overheating? No problem. With REDMAGIC's ICE 10.0 Multi-dimensional Cooling System, your phone stays cooler for longer even when you ramp up settings to the max.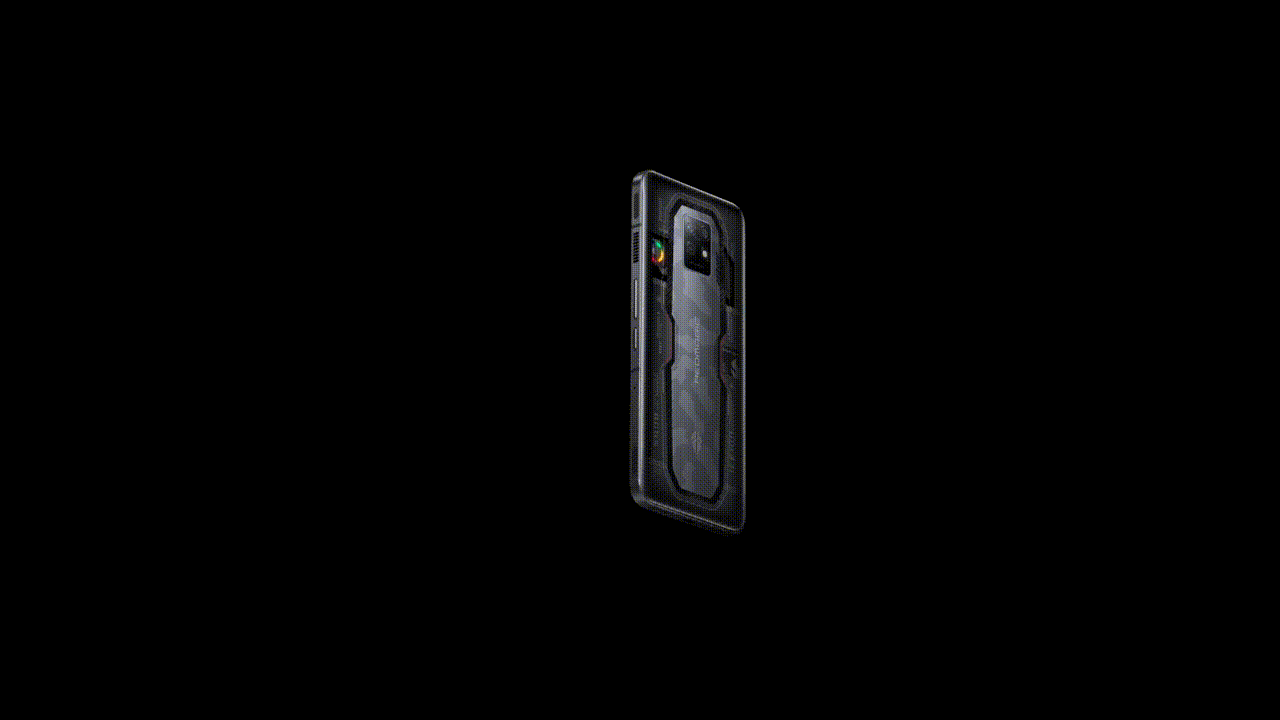 THERMAL PERFORMANCE COMPARISON
BUILT-IN TURBO COOLING
For improved cooling is a 20,000 RPM built-in turbofan. We have improved our turbofan design by adding in 4 energy saving coils, a noise dampening metal cover, and a special Shark Fin Vortex cut out design for improved airflow and noise reduction. Then to top it off we added LED RGB lights for our transparent versions for extra coolness.
6% Increased Air Pressure, 4dB Noise Reduction
EXPERIENCE
Get the most out of games with a great gaming experience that only a gaming smartphone like the REDMAGIC 7S Pro can giving you with it's specialized gaming features.
THE POWER TO GAME MORE
REDMAGIC 7S Pro is outfitted with a 5000mAh dual cell battery that gives you hours of gaming. With 65W fast-charging supported, you'll be juiced up and gaming in no time.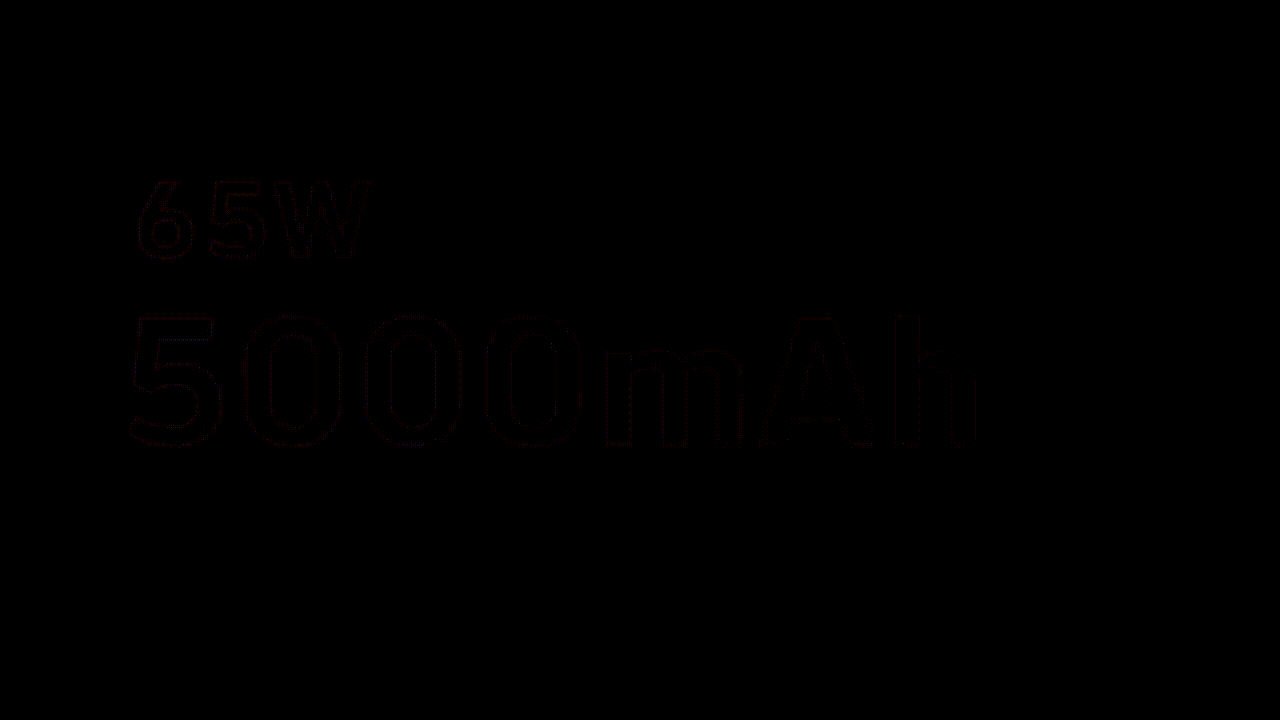 REDMAGIC Studio
Bring your mobile gaming onto your PC. Enjoy mouse and keyboard controls for a better gaming experience. Or take it to the big screen on your tv with 120 FPS wireless projection.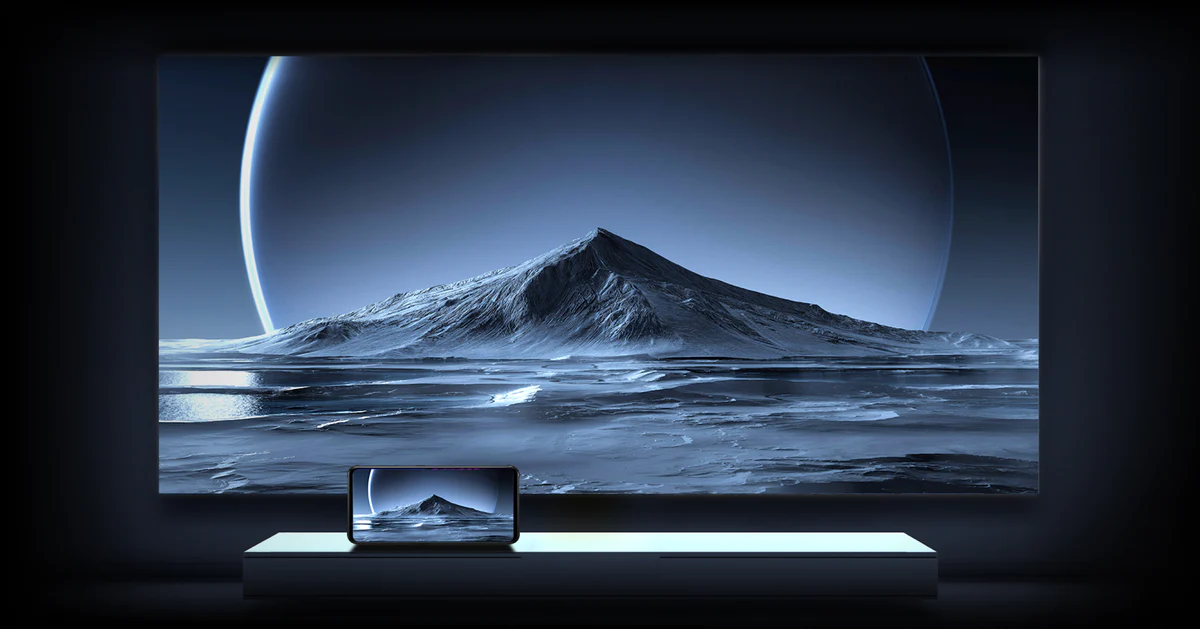 Screen Projection + High Quality + Low Latency
Red Core 1 Dedicated Gaming Chip
A secondary chip designed to handle gaming functions like audio and haptic feedback so the Snapdragon 8+ Gen 1 can focus more power on raw performance for a better overall gaming experience.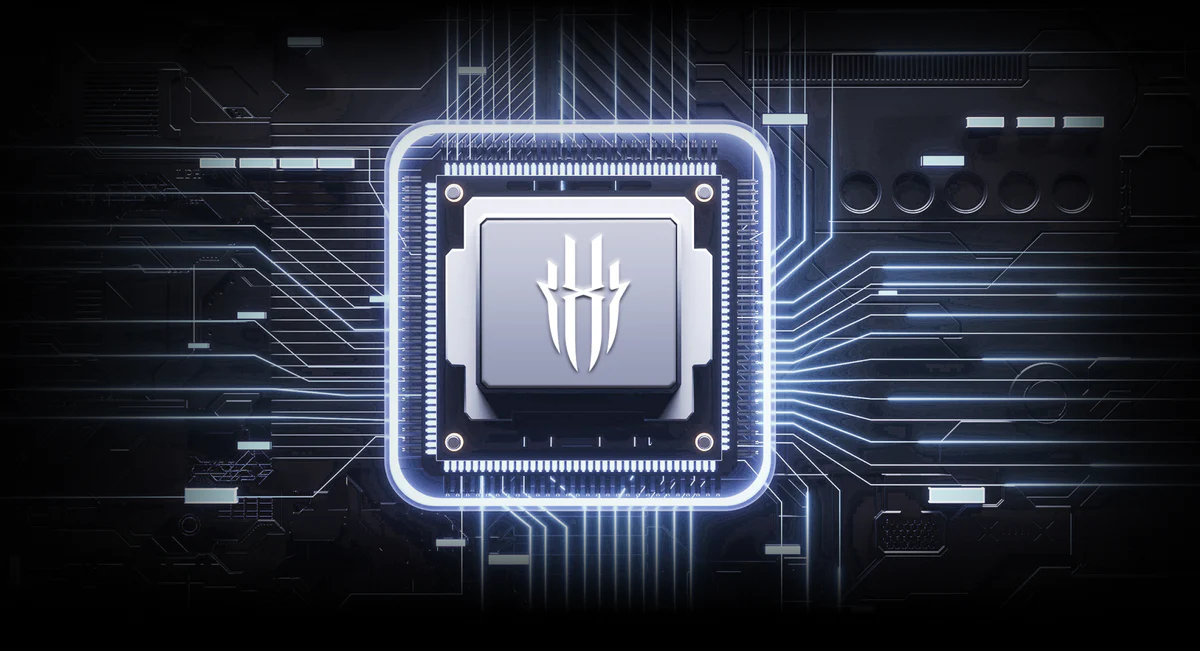 Game Space

With the flip of a switch, you can immerse yourself into the perfect mobile gaming environment. Unlock complete control over your REDMAGIC 7S Pro and create the best gaming experience that is also uniquely your own.
520Hz Shoulder Triggers
Play your mobile games like real games with highly responsive 520Hz shoulder triggers.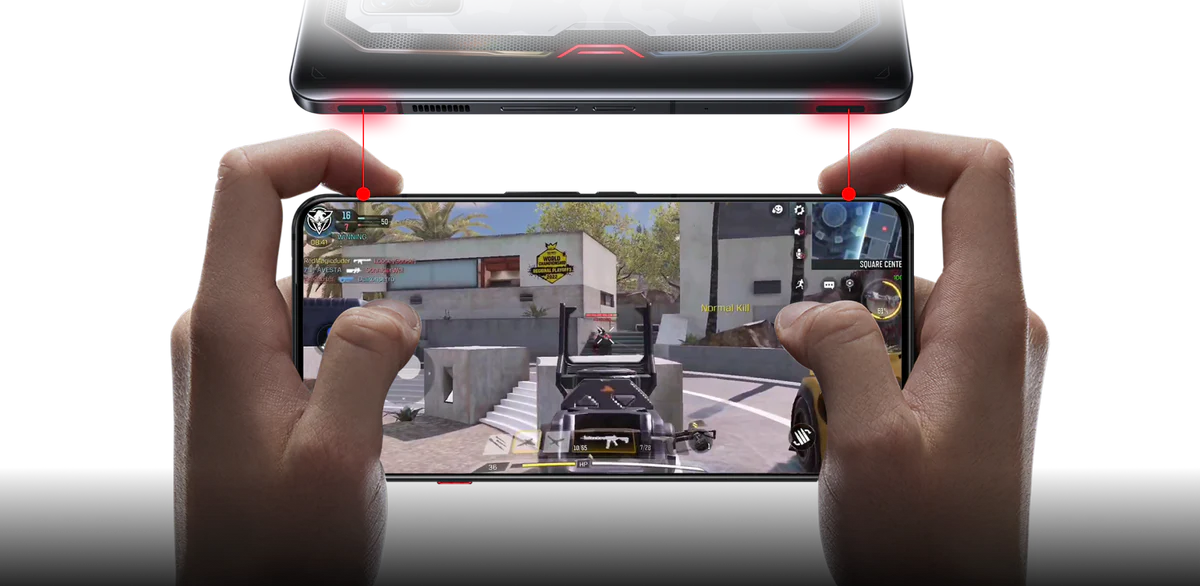 64M Ultra-high Resolution AI Triple Camera System
Awesome photos and 4K HD videos at your fingertips. Never let an epic moment slip by.