產品配置 Red Magic 8s Pro 5G Specifications
基本資料 Basic Information
型號 Model:Red Magic 8s Pro 5G
顏色 Color:黑色 Midnight, 透明黑 Aurora, 透明銀 Platinum
系統 System:Android 13
處理器 CPU:8 Core Snapdragon 8 Gen 2 up to 3.36GHz
記憶體 RAM:12GB, 16GB
容量 Storage:256GB, 512GB
記憶卡 SD Card:不支援 Not Support
電池 Battery:6000mAh
- 支援快速充電 Support 65W Quick Charging
屏幕 Display
- 呎吋 Size:6.8吋 Inch
- 解析度 Resolution:2480 x 1116
- 93.7% 屏佔比 Screen-to-Body Ratio
- 最高亮度可達 1300 nits maximum brightness
- 120Hz 刷新率 Refresh Rate
- 960Hz 觸控刷新率 Touch Sampling Rate
- 康寧大猩猩玻璃 Corning Gorilla Glass
相機 Camera
後置相機 Rear Camera
- 50MP 主鏡頭 Main
- 8MP 超廣角 Ultra Wide
- 2MP 微距 Marco
前置相機 Front Camera
- 16MP 自拍鏡頭 Selfie
連接 Connectivity
- 制式 Cellular:5G / 4G / 3G / 2G
- 卡槽 Card Slot:SIM 1 + SIM 2
- 耳機插槽 Earphones Jack:3.5mm
- NFC:支援 Support
- WiFi:2.4GHz / 5GHz / 6GHz (802.11 b/g/n/ac/ax/be)
- 藍芽 Bluetooth:5.3
尺寸 Dimensions
- 尺寸 Size:163.98 x 76.35 x 9.47mm
- 重量 Weight:228g
功能 Features
- DTS:X Ultra 認證雙喇叭 Dual Speakers
- ICE 12 散熱系統 Multi-Dimensional Cooling System
- 20,000 RPM 高速離心風扇 High-speed Turbo Fan
- 520Hz 肩部按鈕 Shoulder Trigger Buttons
- 遊戲空間切換 Toggles special game mode on or off
- 自定義背部燈效 Fully Customizable RGB Light Effects
- 指紋解鎖 Support Fingerprint Unlock
- 面部解鎖 Support Face Unlock

包裝內容 Package Contects
1 x Red Magic 8s Pro 5G,
1 x 充電器 Charger,
1 x 電源線 USB Cable,
1 x 保護套 Phone Case,
1 x SIM卡針 SIM Pin,
1 x 用戶指南 User Guide

保養 Warranty
- 平行進口產品 Parallel Import
- 七天購物保障 7 Days Guarantee
- 一年有限保固 One Year Limited Warranty
備註 Remarks
- 落單前請先與我們確認庫存 (型號 / 容量 / 顏色)
- Please contact us before placing an order. Thank you.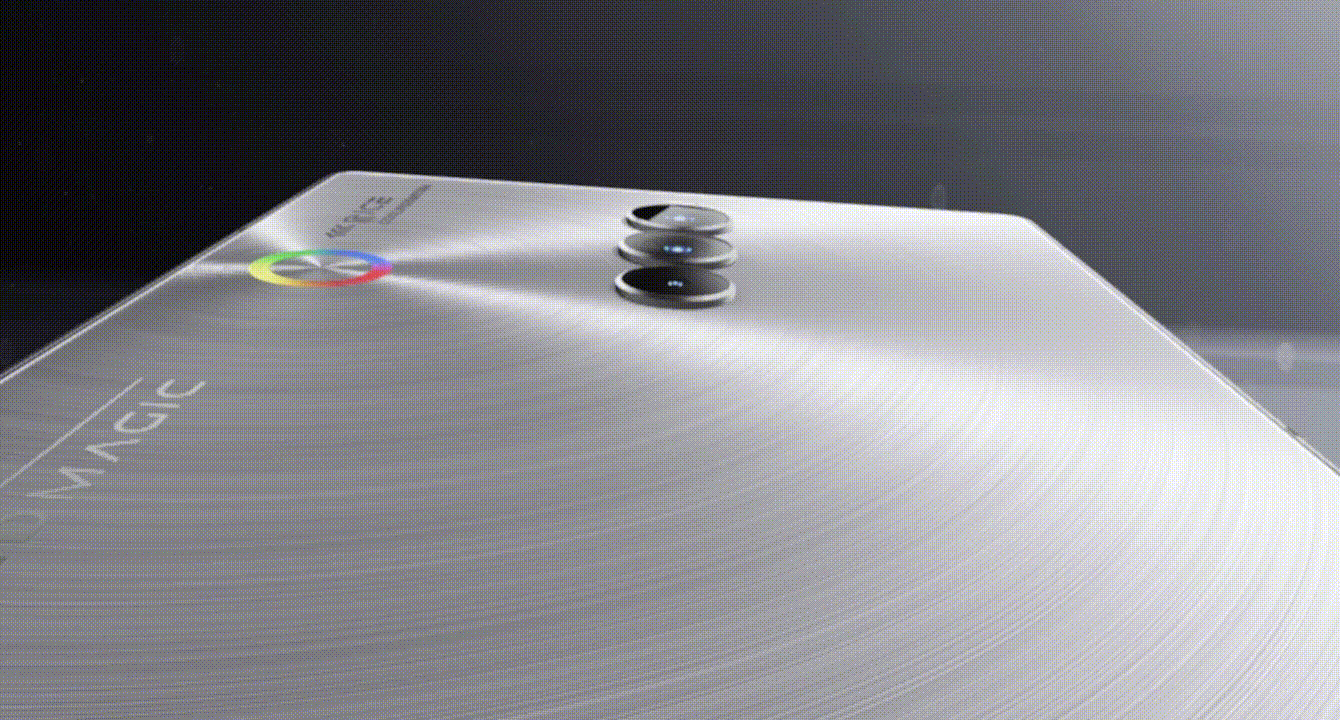 Slowing Down
Is Not an Option
A Processor That's Even Faster
The Leading Version of Snapdragon 8 Gen 2 is overclocked and enhanced for lightspeed movement on screen and on the battlefield.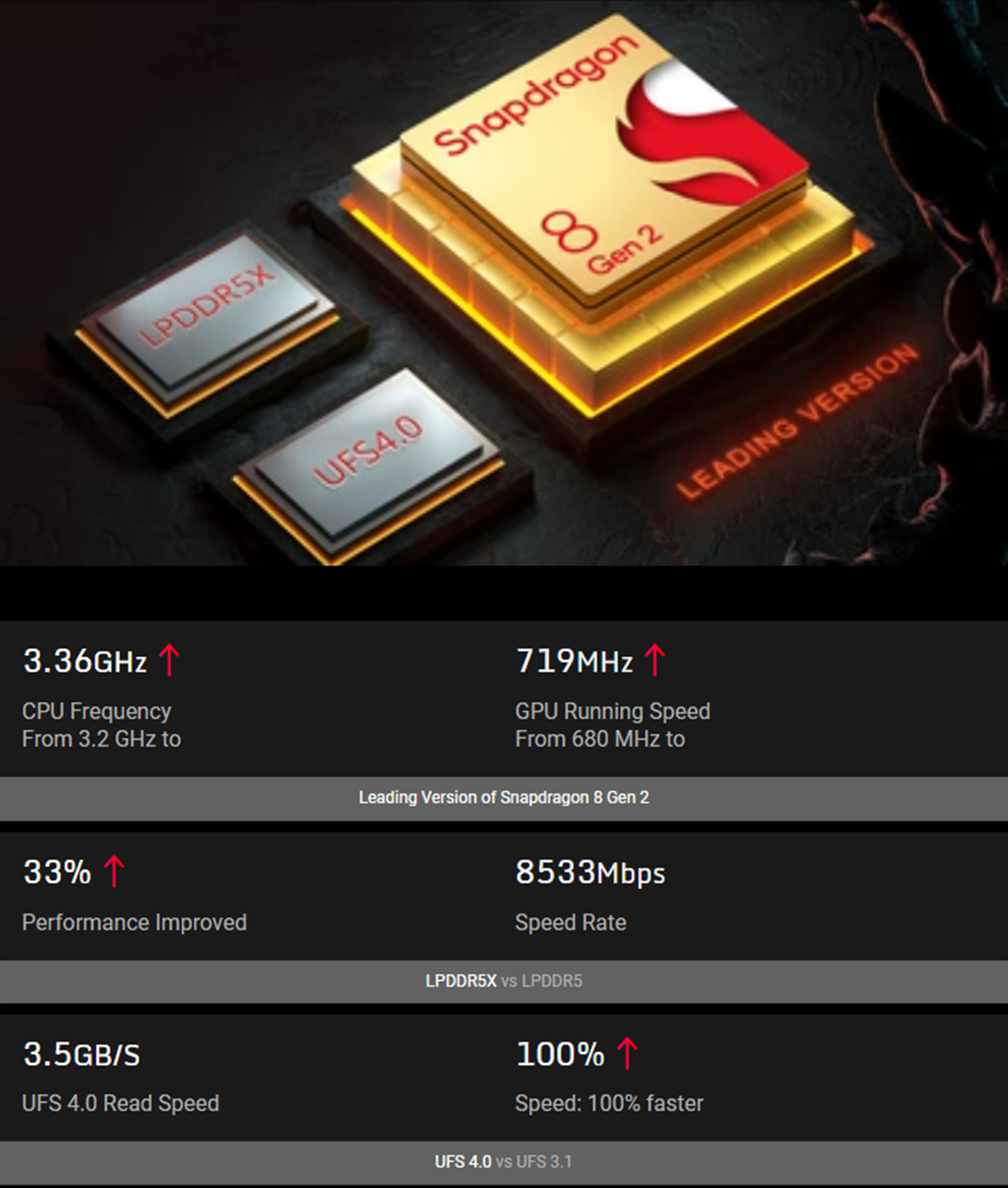 Frame Stability Guaranteed
During a two-hour game, the frame rate remains stable at 59.9FPS to ensure vivid display quality that is consistent throughout.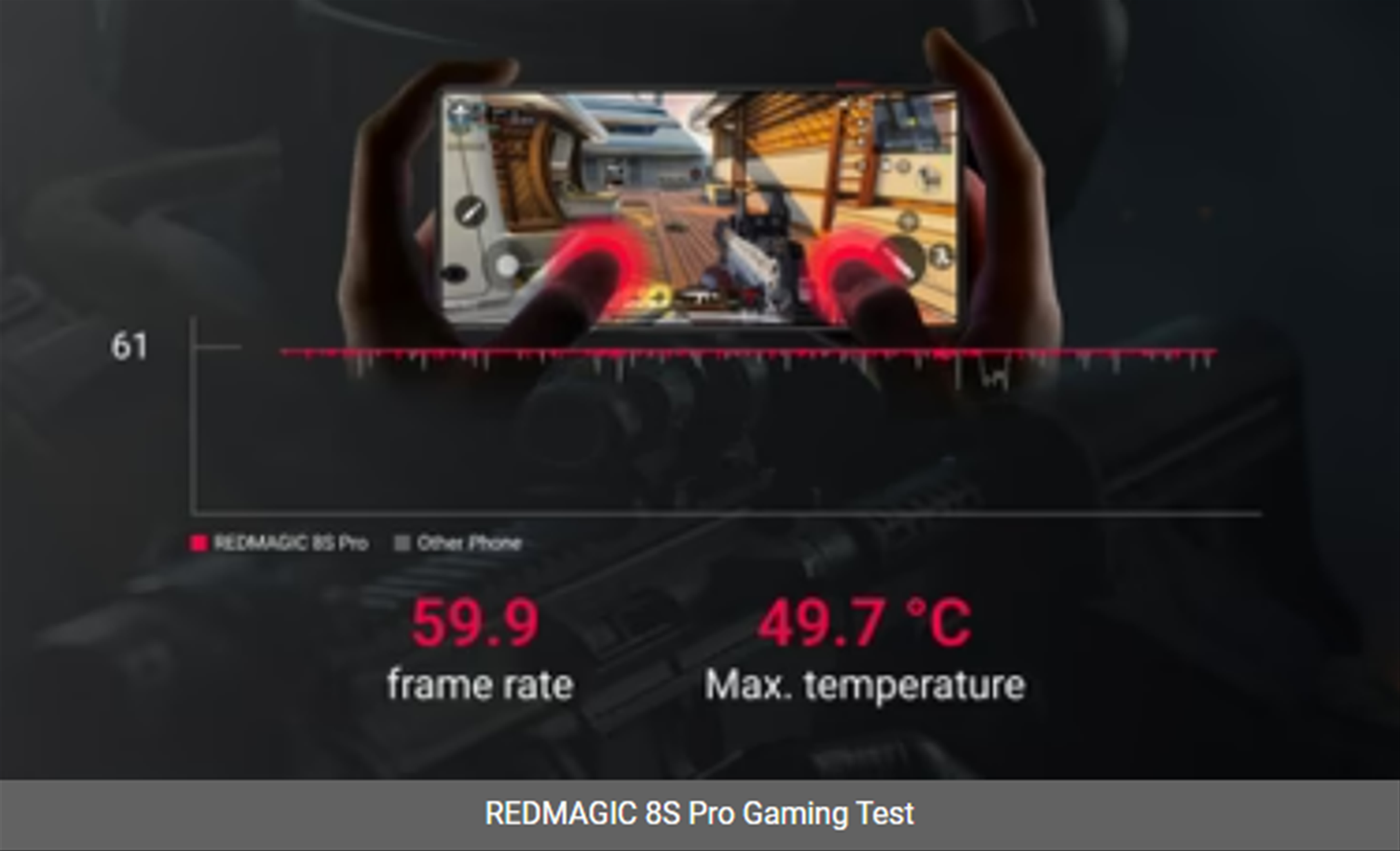 Game Comparison Video
Nothing gets you off your game like a lagging display. The ultra-rapid 120Hz screen refresh rate ensures that you don't miss a beat by delivering the smoothest transition between each frame.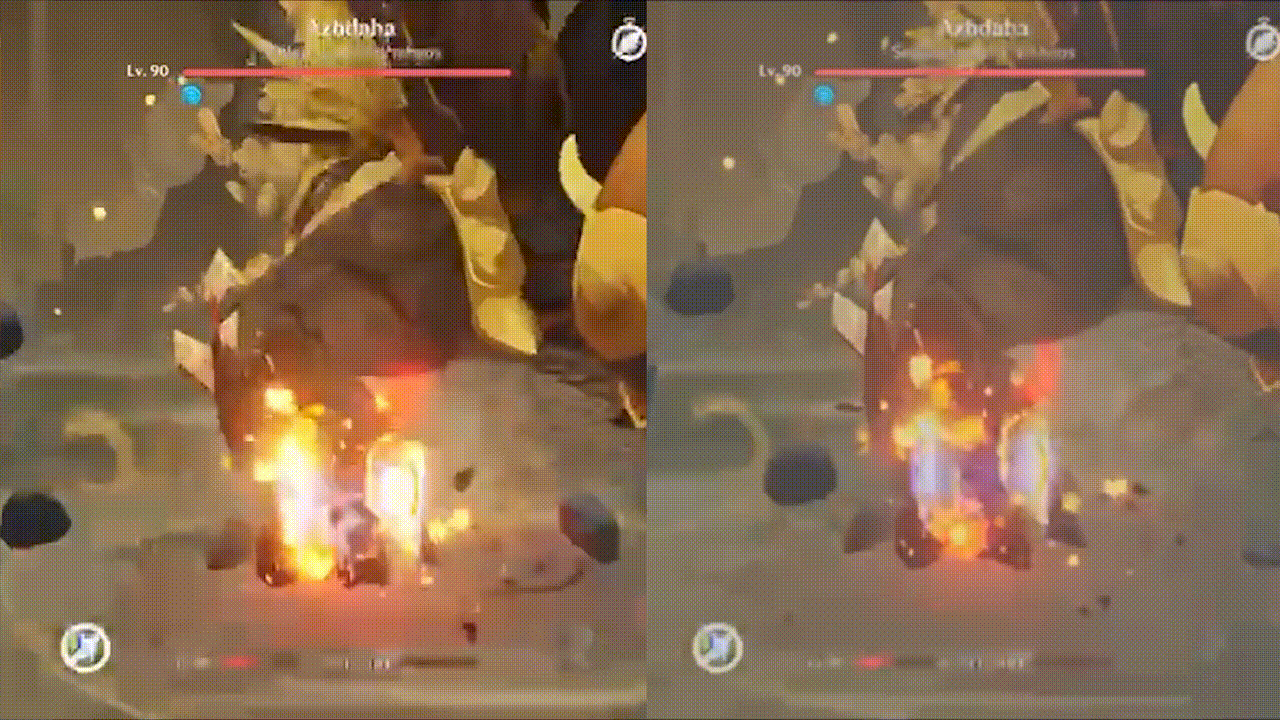 See It All and Do More
A 6.8-inch true-full gaming screen delivers a vivid display plus the option to complete multiple tasks simultaneously or play a competitive 2-player game at a stable 58.1 FPS with the split screen function.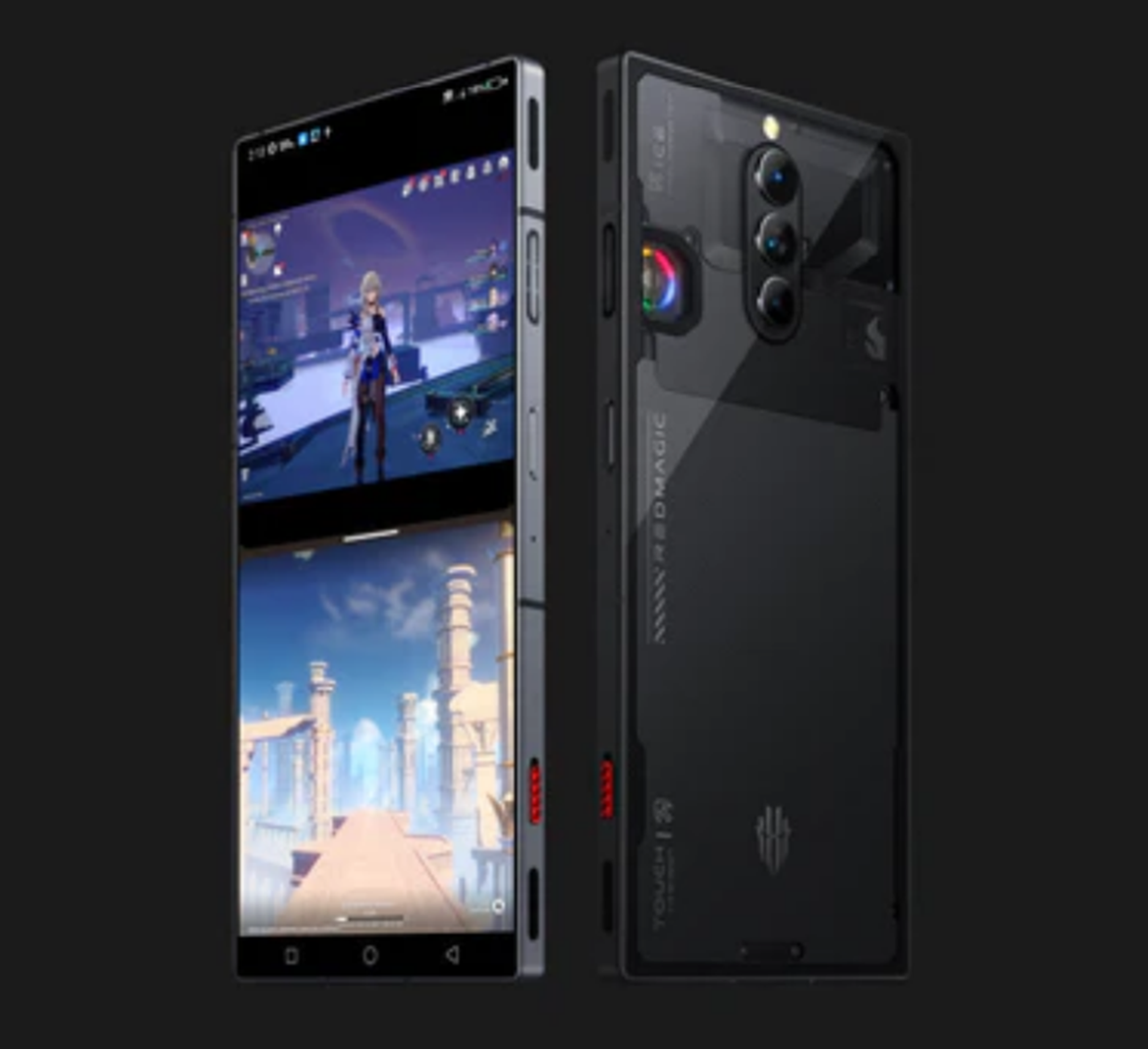 Keep Your Cool
Game On
Premium Heat Management
The ICE 12.0 cooling system is enhanced with a High Thermal Conductivity Gel and Composite Graphene, so you can enjoy a 2°C drop in temperature during charging and overall phone usage, and a 1.3°C drop in the CPU temperature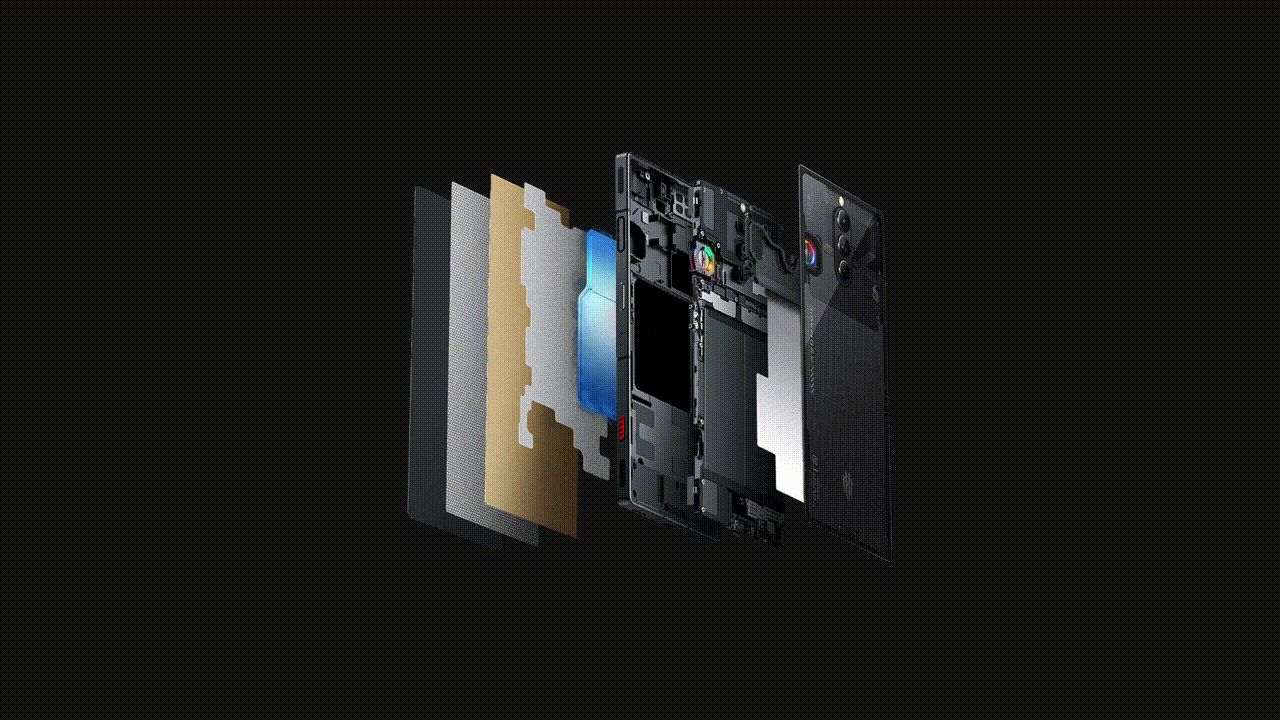 Cooling Power x2
At 2068 mm³, the 8S Pro houses the largest VC cooling plate, which makes it twice as thick and doubles its efficiency.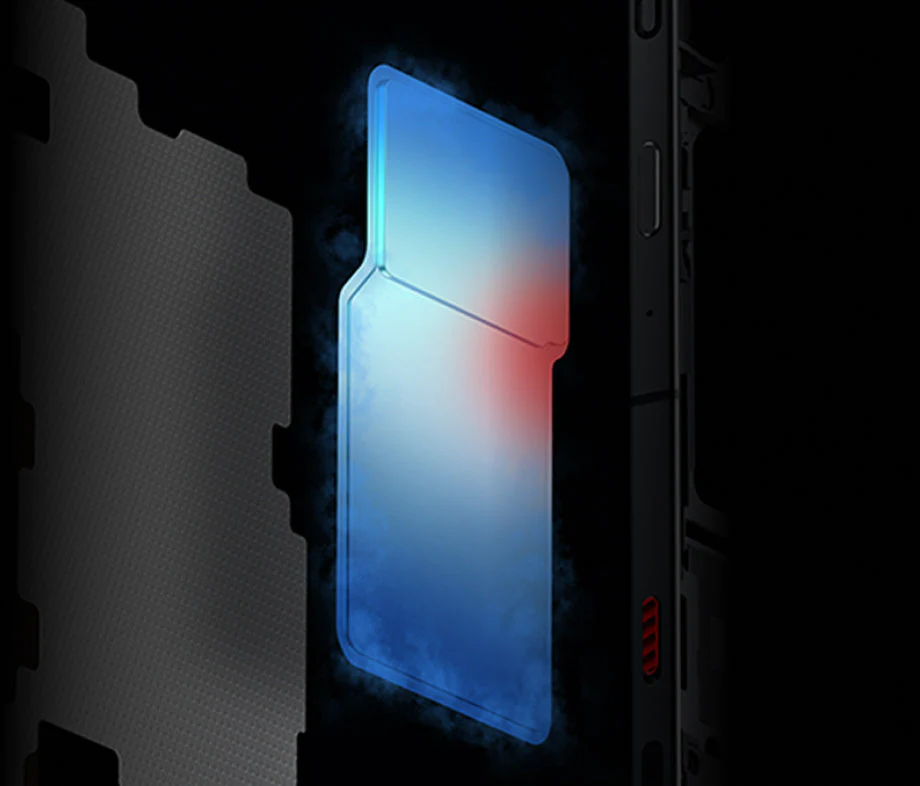 Adjustable High-Speed Fan
The 20,000 rpm fan has an auto-active switch that detects gameplay, and you can tweak its speed to meet the demands of each game.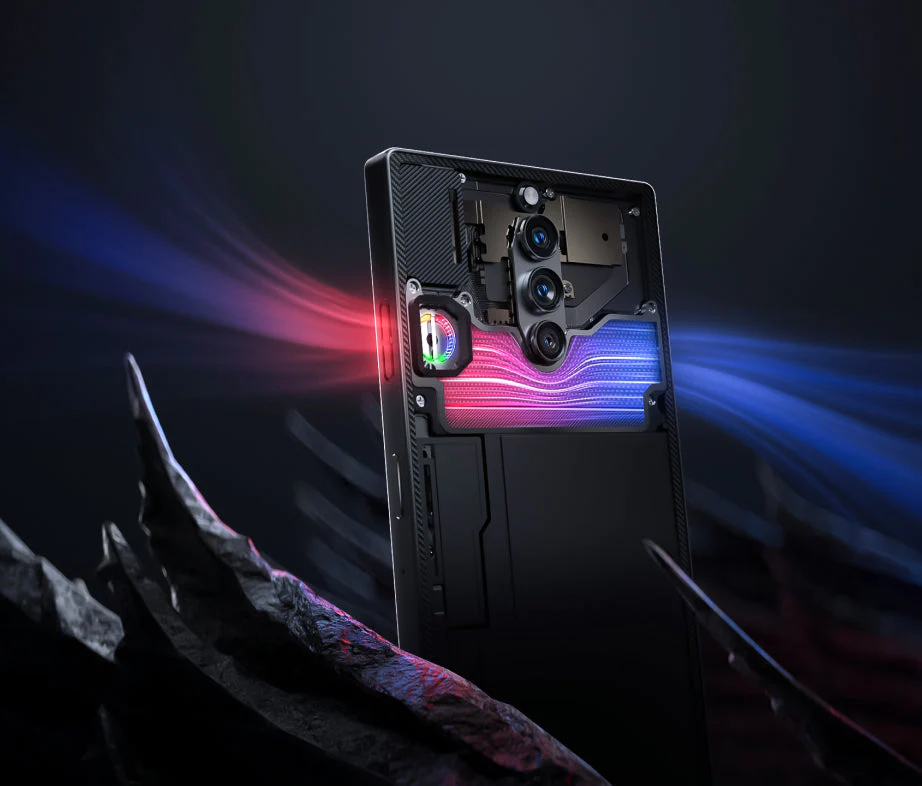 A Tangible Cooling Sensation
An improved graphene plate is integrated under the screen to dissipate heat from the source, optimizing the average heat capacity by 150% and keeping the screen tangibly cool.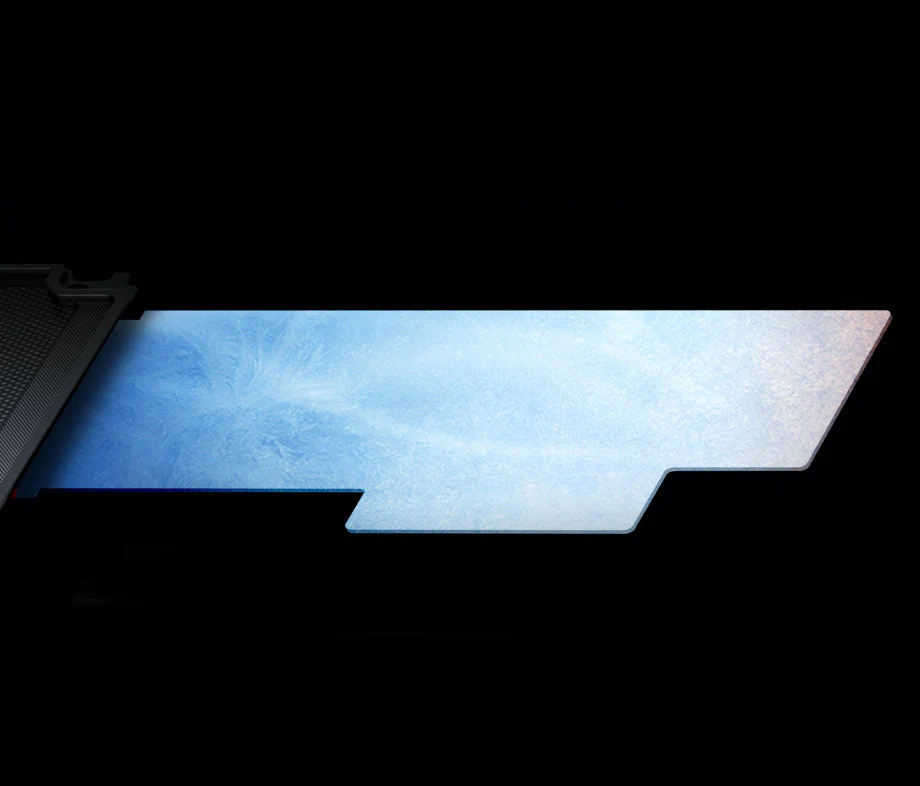 Gaming Like
You've Never Seen
Performance Meets Beauty
The 6.8-inch AMOLED screen has ultra-thin bezels and boasts a class-leading vivid display with 120Hz refresh rate, and 1300 nits of daytime-ready peak brightness. Our Second-Gen UDC technology provides a notchless full-screen experience, plus LTPO refresh technology optimizes the 120Hz rate for energy efficiency as needed.
Screen-to-Body Ratio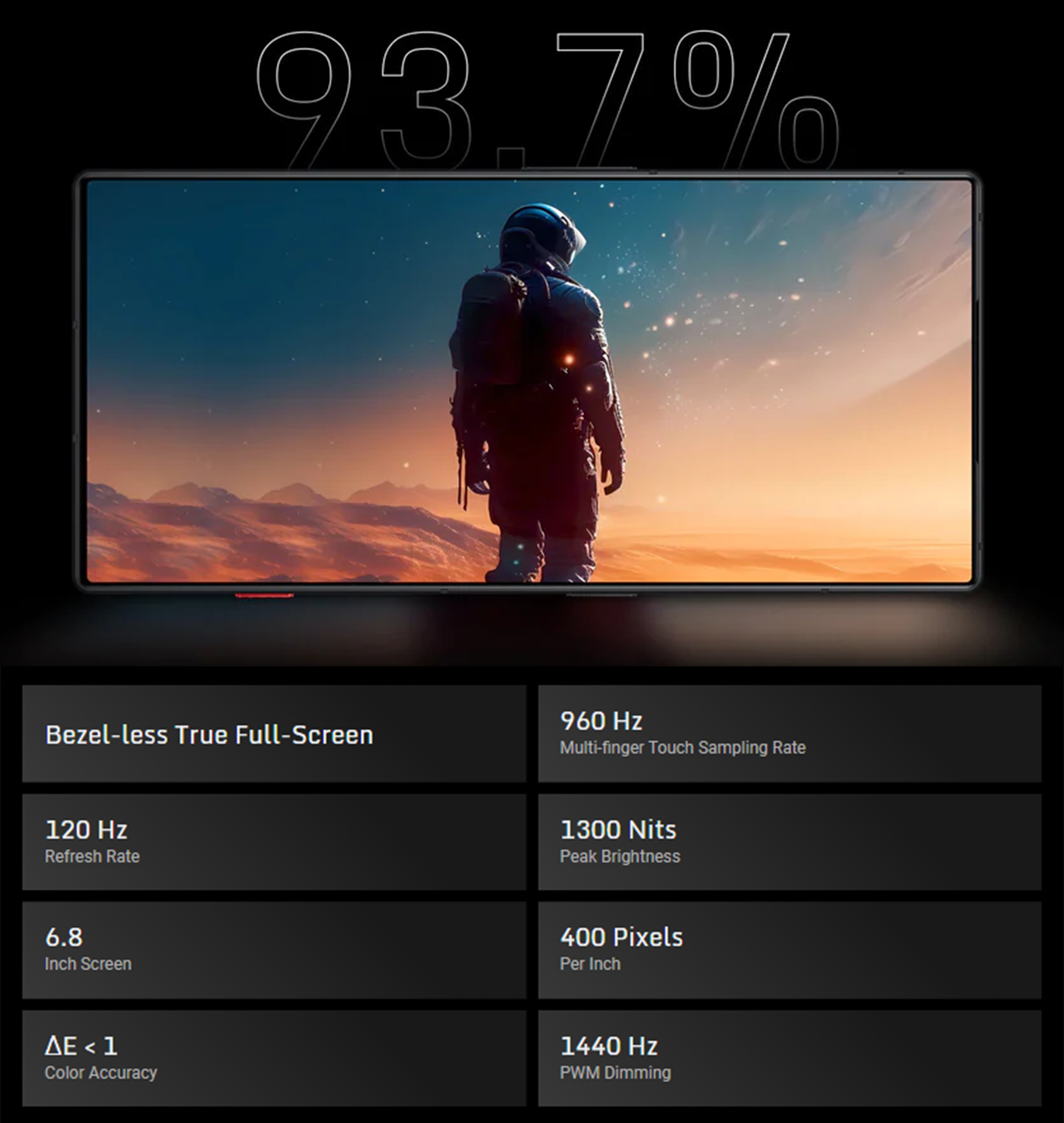 Unstoppable Endurance
The tried and trusted 6000 mAh dual-cell battery keeps you gassed up all day, plus the 65W super-fast charger goes from 0-100 in 35 minutes to ensure you're always ready to leap into the next level.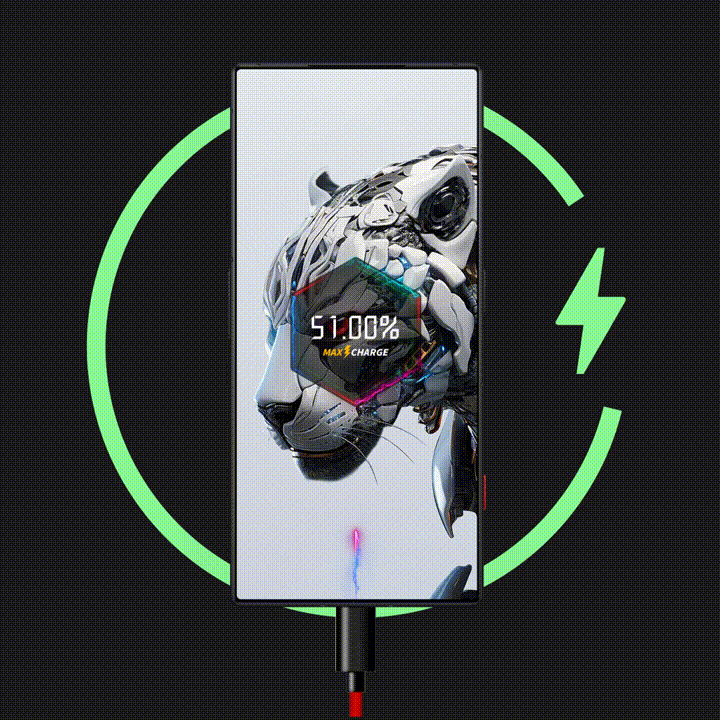 Mesmerizing Audio Precision
1216+1115K super linear dual speakers in a closed box structure deliver surround sound, deep bass, and an optimized audio experience certified by DTS:X Ultra. The 5 layer magnetic speakers ensure audio fidelity and an enticing audio experience.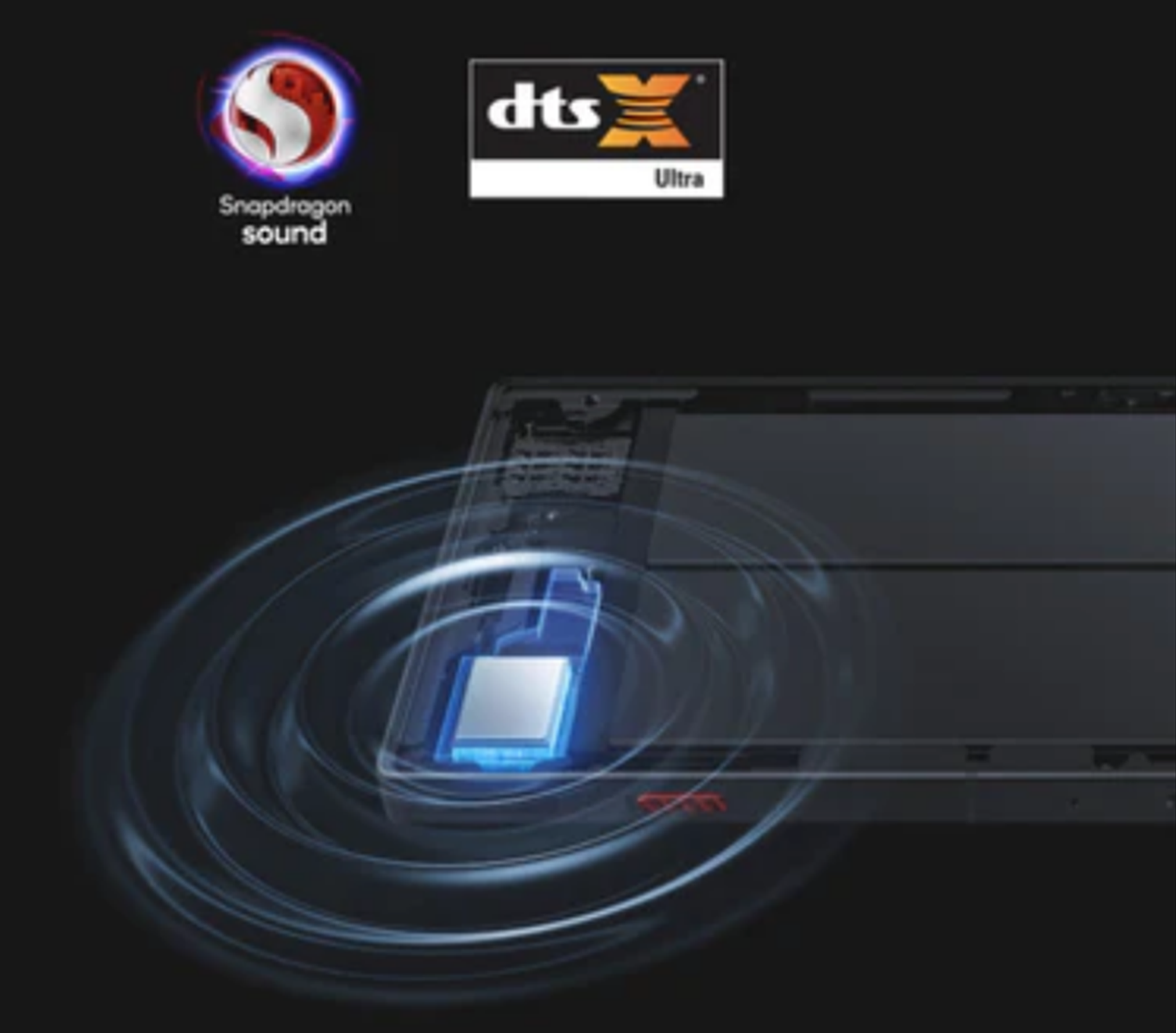 A Competitive
Advantage
The Complete Gaming Experience
REDMAGIC Studio and Gravity X transform the REDMAGIC 8S Pro into a portable console, enabling effortless connections to the REDMAGIC Gamepad, Gaming Monitor, Mechanical Keyboard, and Gaming Mouse. This seamless integration allows users to effortlessly enjoy 3A games.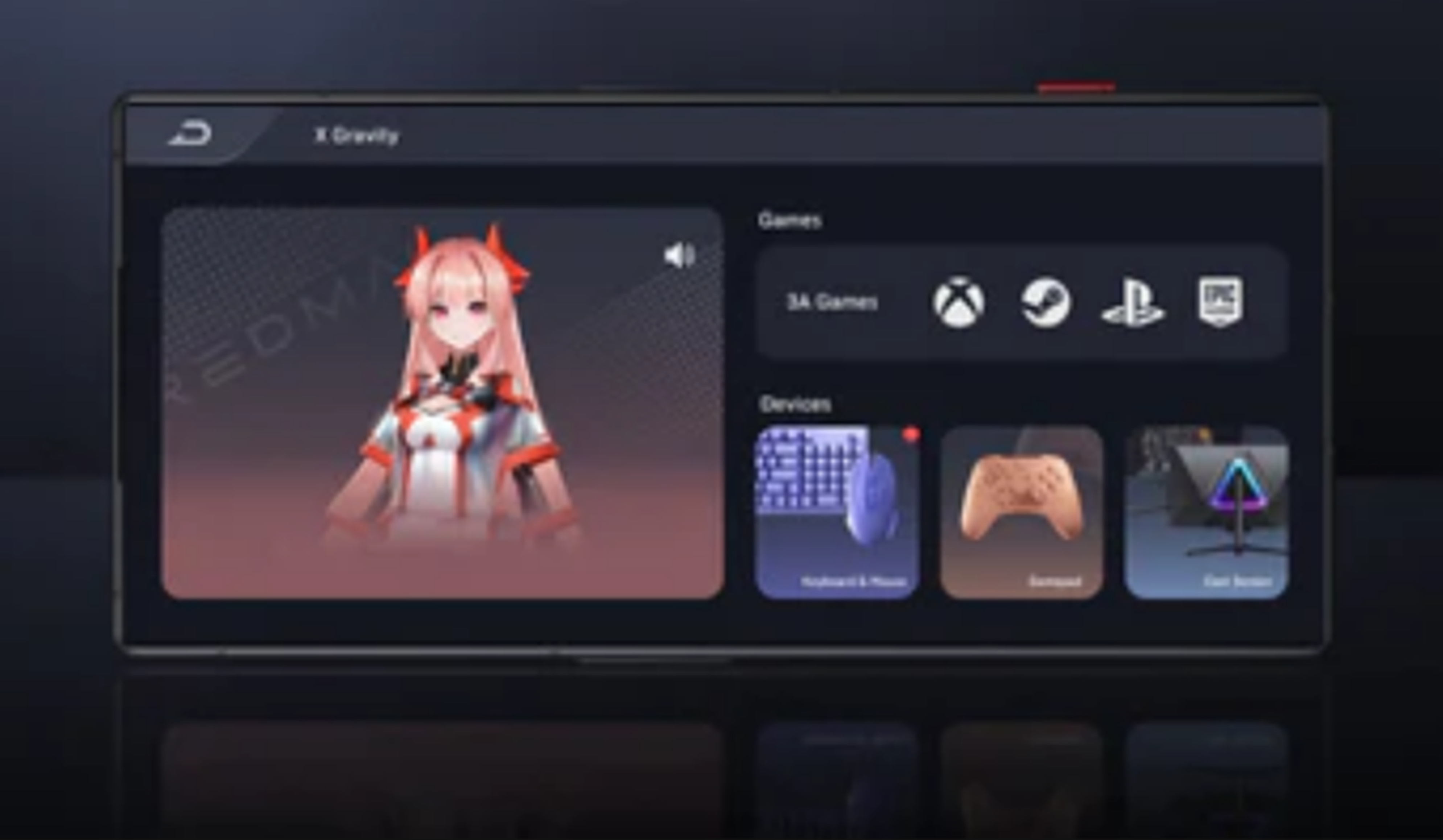 Total Control
Edge into the Winners' Circle with speed and grace with the fastest 960Hz multi-finger touch sampling rate and the best 520Hz dual-wing triggers in the game.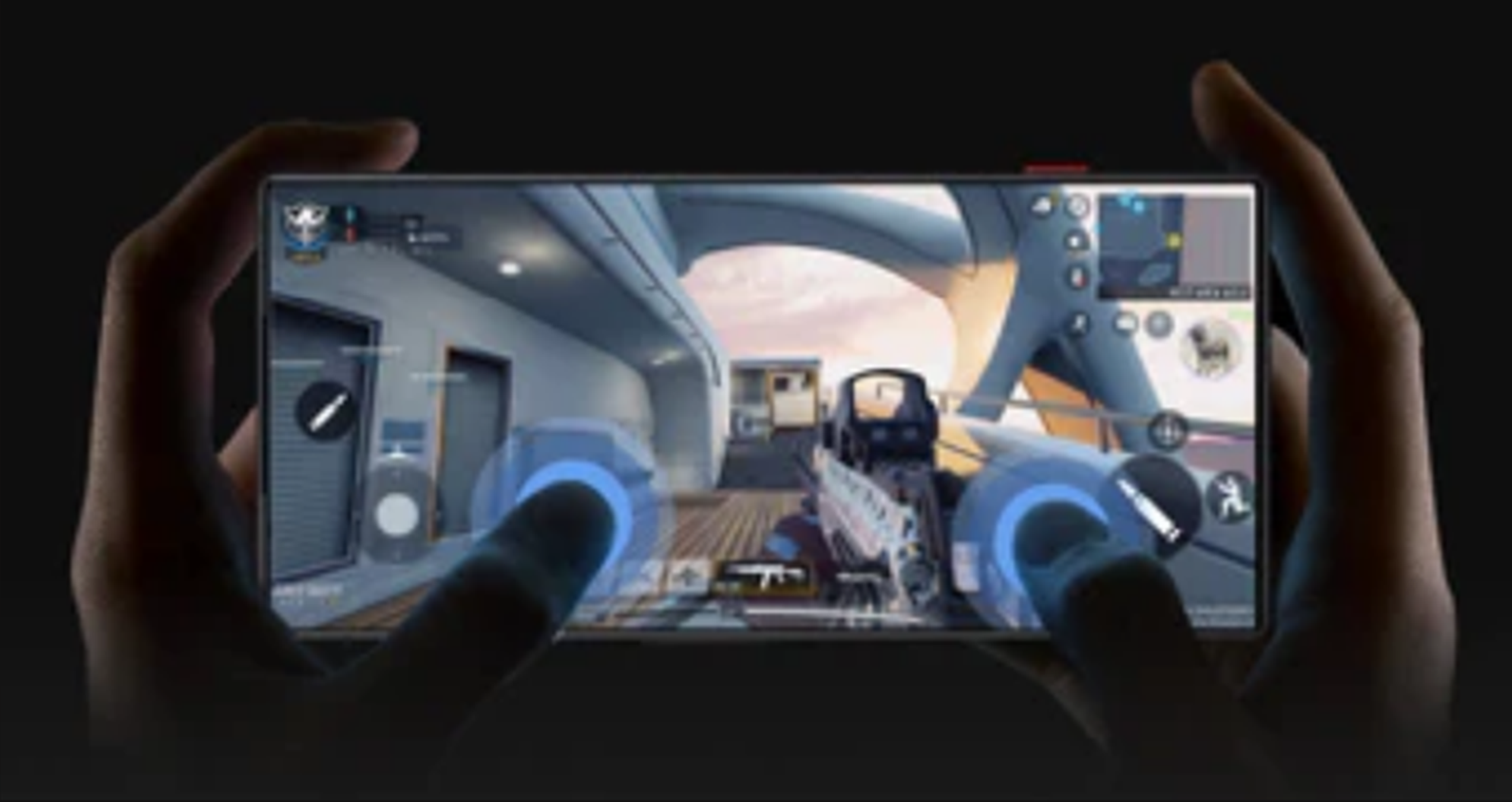 Our Most Personalized Interface
The latest REDMAGIC OS 8.0 gives you more control over the miniature elements that make your device more personalized and user friendly.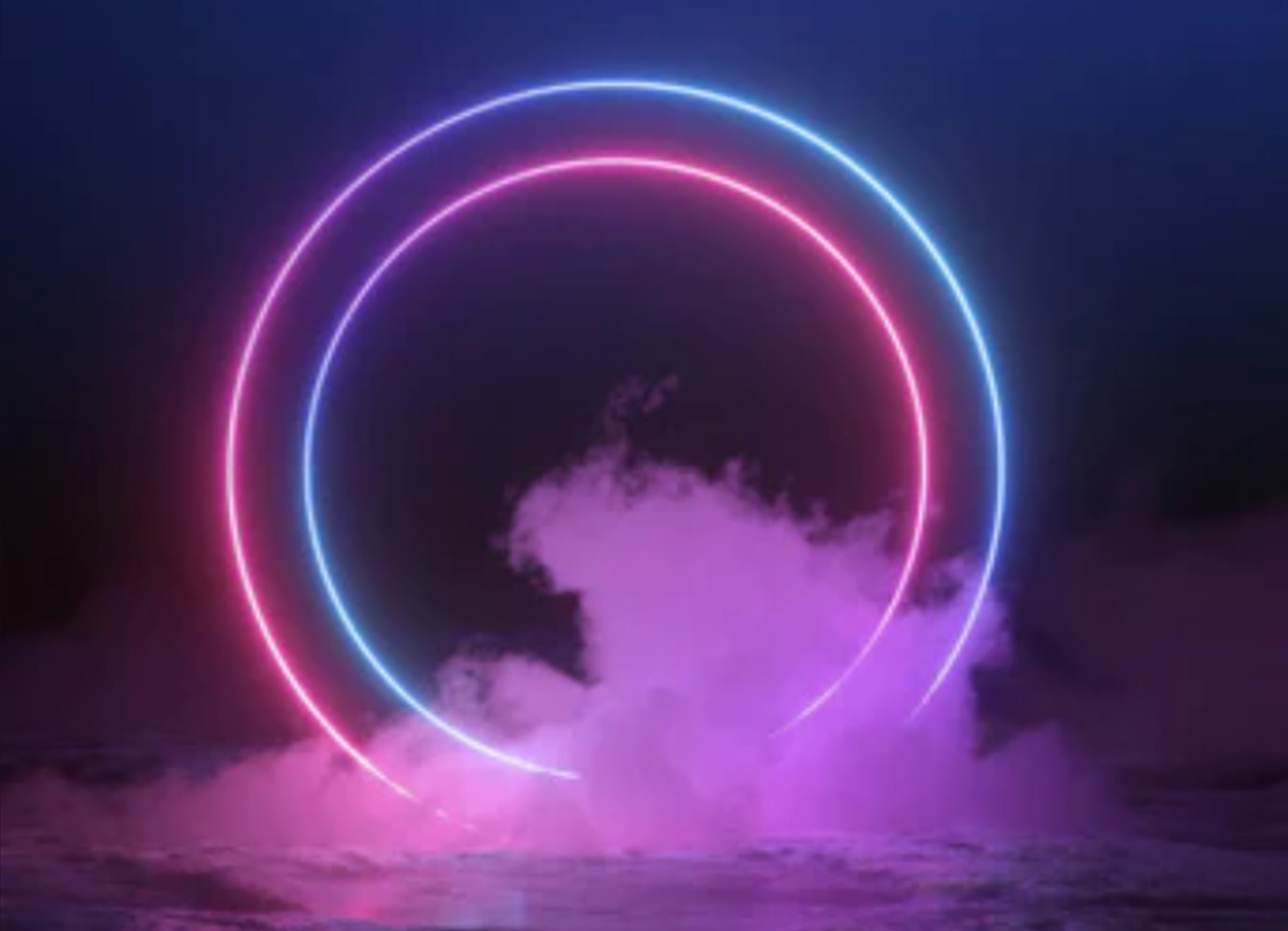 Go Big with REDMAGIC Studio
REDMAGIC Studio allows seamless integration of any game directly from the REDMAGIC 8S Pro to your PC or TV.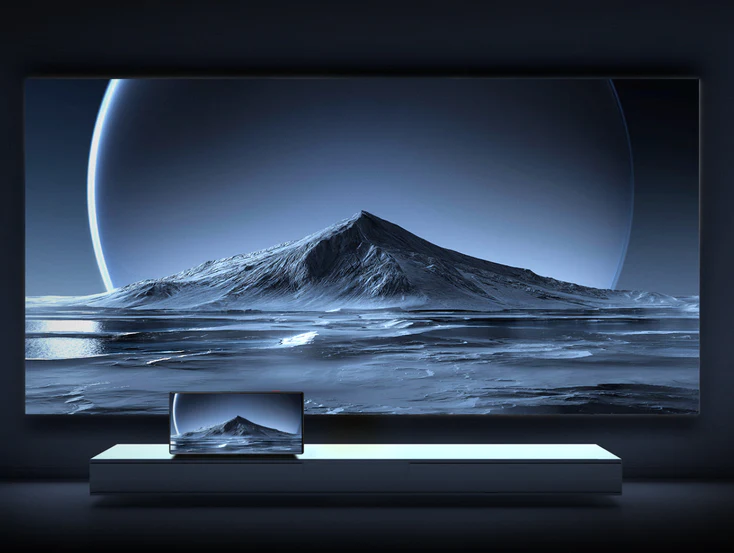 Capture the Moment
The triple camera system delivers a precision and clarity that turns your favorite moments into timeless art. The 50MP main lens excels in various lighting conditions, while the 8MP and 2MP lenses capture all of life's finer details.