產品配置 Unihertz Atom Specifications
認證 Certification Standard
IP68 防水 防塵 防撞 Waterproof, Dust proof, Shock-resistant
基本資料 Unihertz Atom Basic Information
型號 Model:Unihertz Atom
顏色 Color:黑色 Black
系統 System:Android 9
處理器 CPU:8 Core MediaTek Helio P23 up to 2.0GHz
記憶體 RAM:4GB
容量 Storage:64GB
記憶卡 SD Card:不支援 Not Support
電池 Battery:2000mAh
支援快速充電 Support 10W Quick Charging,
支援逆向充電 Support Reverse Charging
屏幕 Display
呎吋 Size:2.45吋 Inch
解析度 Resolution:240 x 432
康寧大猩猩玻璃 Corning Gorilla Glass
相機 Camera
後置相機 Rear Camera
16MP 主鏡頭 Main
前置相機 Front Camera
8MP 自拍鏡頭 Selfie
連接 Connectivity
制式 Cellular:4G / 3G / 2G
卡槽 Card Slot:SIM 1 + SIM 2
導航 Navigation : A-GPS, Glonass
耳機插槽 Earphones Jack : 3.5mm
NFC:支援 Support
Wifi:2.4GHz / 5GHz
藍芽 Bluetooth:4.1
尺寸 Dimensions
尺寸 Size:96 x 45 x 18 mm
重量 Weight:108g
功能 Features
指紋解鎖 Support Fingerprint Unlock,

包裝內容 Package Contects
1 x Unihertz Atom,
1 x 充電器 Charger,
1 x 電源線 USB Cable,
1 x 用戶指南 User Guide

保養 Warranty
七天購物保障 7 Days Guarantee
一年有限保固 One Year Limited Warranty
備註 Remarks
落單前請先與我們確認庫存 (型號 / 容量 / 顏色)
Please contact us before placing an order. Thank you.
Ultra-Small Rugged Smartphone Designed for the Outdoors
Introducing Atom
Atom is a small, compact smartphone that is only 2.45 inches in length, making it even smaller than your hand! It can surely be put in your coin pocket or handbag, sparing up more space!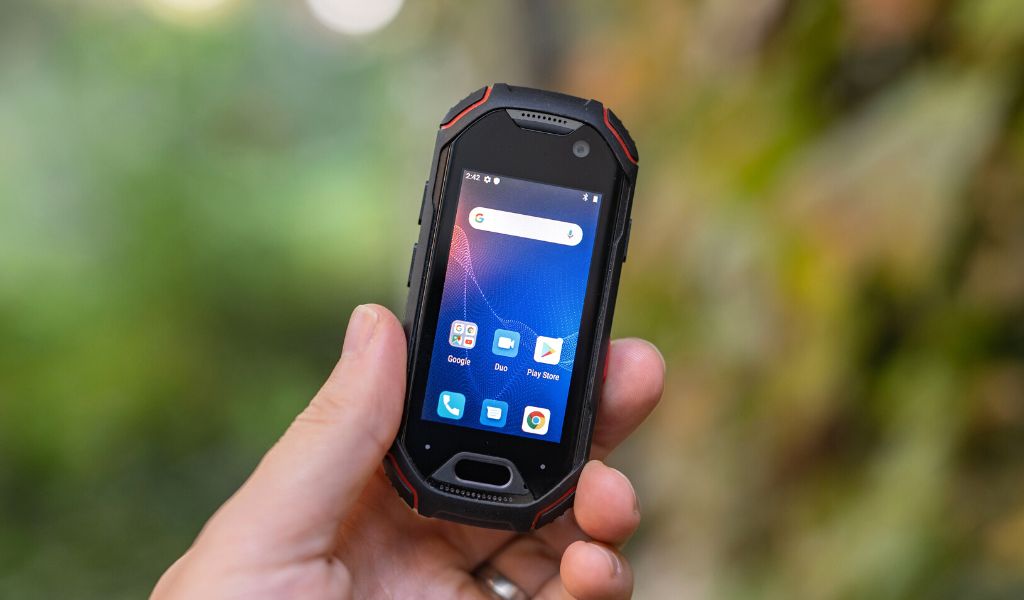 Small But Fully Functional
Running Android OS, Atom is compatible with most apps you can find in the Google Play store. Despite its tiny size, Atom has almost all the functions you need for daily life, including fingerprint unlock, NFC, 64G storage, etc.
Tough, Rugged, and Durable
With the IP68 rating and Corning Gorilla Glass, Atom is waterproof, dust-proof, and shock-resistant, making it a perfect phone for both outdoor adventures and daily life!
Fingerprint Scanner
Small but complete, Atom secures your privacy by offering fingerprint unlock. An unlock time shorter than the blink of an eye doesn't affect your mobile phone experience at all.
2000mAh Rechargeable Battery
Thanks to its small size, Atom is more power efficient and can work for a long time with the 2000 mAh rechargeable battery.
Tailor-Made for Outdoor Enthusiasts
Atom's support for compass, GPS, and IP68 certification guarantees more reliable positioning. It is made for people with an adventurous spirit who need more reliable devices for off-road and trekking experiences.
Specifications