產品配置 Unihertz TickTock Golden Eye 5G Specifications
認證 Certification Standard
IP68 防水 防塵 防撞 Splash, Water, and Dust Resistant
防水深度 Ingress Protection
1.5 米內 (浸泡時間最長 30 分鐘)
Depth of 1.5m underwater for up to 30 minutes.
基本資料 Basic Information
型號 Model:Unihertz TickTock Golden Eye 5G
顏色 Color:黑色 Black
系統 System:Android 12
處理器 CPU:8 Core MediaTek Dimensity 700 up to 2.2GHz
記憶體 RAM:8GB
虛擬記憶體 Virtual RAM:最高擴充 4GB Maximum
容量 Storage:256GB
記憶卡 SD Card:不支援 Not Support
電池 Battery:5200mAh
- 支援快速充電 Support 30W Quick Charging,
- 支援逆向充電 Support Reverse Charging
屏幕 Display
呎吋 Size:6.53吋 Inch
解析度 Resolution:2340 x 1080
相機 Camera
後置相機 Rear Camera
64MP 主鏡頭 Main
2MP 微距 Marco
前置相機 Front Camera
32MP 自拍鏡頭 Selfie
內置水下拍攝模式 Underwater Camera Mode
- 支持拍照和錄像 Supports to take photos & video recording
- 支持在水下開始 / 結束操作 Supports to start/end operation underwater
- 支持水下快速切換拍攝模式 Supports to quickly switch shooting modes underwater
連接 Connectivity
制式 Cellular:5G / 4G / 3G / 2G
5G 網絡 Network:N1/2/3/5/7/8/12/20/25/28/38/40/41/66/77/78
卡槽 Card Slot:SIM 1 + SIM 2
導航 Navigation : GPS + Beidou + Glonass + Galileo
耳機插槽 Earphones Jack : Type-C
NFC:支援 Support
Wifi:2.4GHz / 5GHz (802.11 b/g/n/ac)
藍芽 Bluetooth:5.3
尺寸 Dimensions
尺寸 Size:82.5× 168.5× 14.3mm
重量 Weight:294g
功能 Features
自定義快捷鍵 Customized Keys,
指紋解鎖 Support Fingerprint Unlock,
面部解鎖 Support Face Unlock
露營燈 Camping Light
尺寸 Size:1.3吋 Inch
模式 Mode:
- SOS
- Explosion flash
- Full bright
- Half bright
- Slight bright
包裝內容 Package Contects
1 x Unihertz TickTock Golden Eye 5G,
1 x 充電器 Charger,
1 x 電源線 USB Cable,
1 x 耳機轉換線 Headphone adapter,
1 x 保護貼 Screen Protector (pre-applied),
1 x 保護套 TPU Phone Case,
1 x SIM卡針 SIM Pin,
1 x 用戶指南 User Guide

保養 Warranty
七天購物保障 7 Days Guarantee
一年有限保固 One Year Limited Warranty
備註 Remarks
落單前請先與我們確認庫存 (型號 / 容量 / 顏色)
Please contact us before placing an order. Thank you.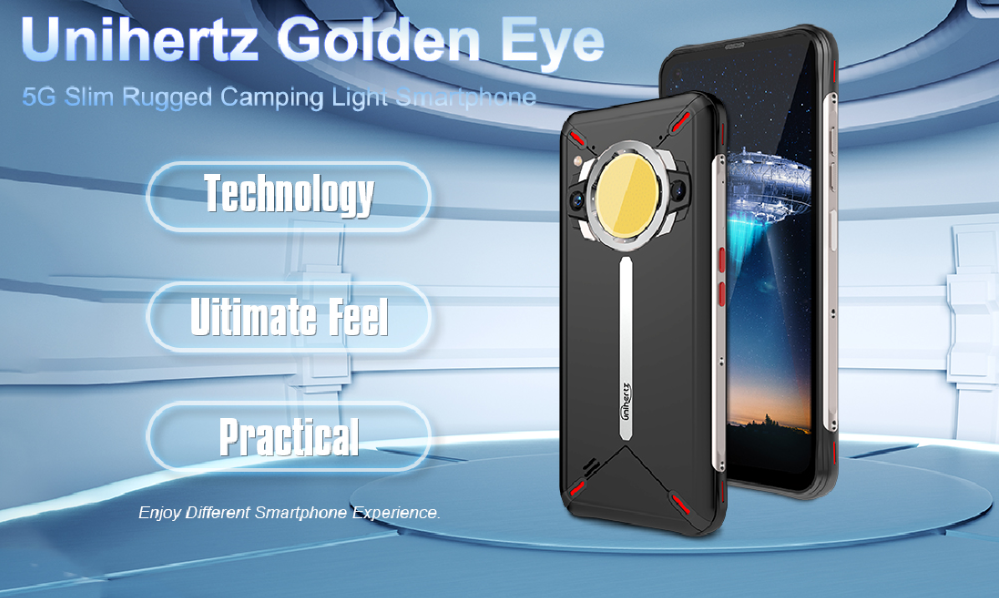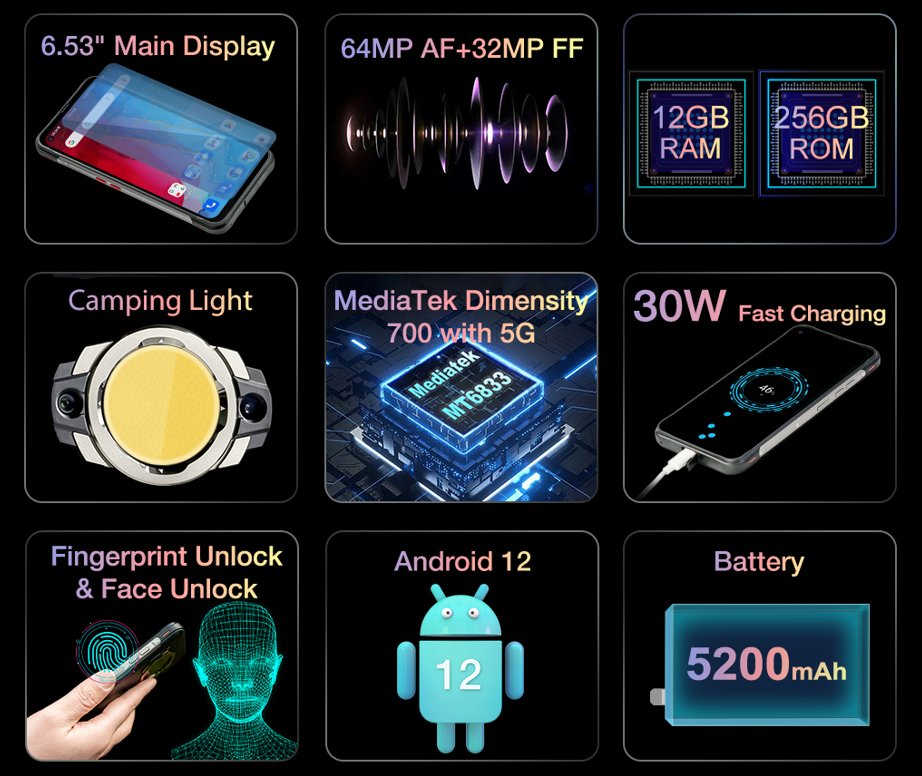 Unleash Your Freedom With the Lightweight Rugged Phone
The IP68 rating rugged smartphone Golden Eye is the reliable companion you need for any adventure, providing exceptional waterproof, dustproof, and shockproof capabilities. Stay connected and enjoy your adventures to the fullest with our ultimate rugged smartphone.
Looking for mobility and durability? The lightweight rugged Golden Eye is perfect for you. It offers the freedom to move without compromise, whether you're exploring the great outdoors, working in a harsh industrial environment, or always on the go.
Power Your Life via High-Capacity Battery
Golden Eye's high-capacity battery ensures you stay connected and productive all day long. With up to 36 hours of talk time, 550 hours of standby time, 70 hours of music playback, and 16 hours of video playback on a single charge, you can go about your day without worrying about running out of battery. Plus, with a fast charging time of just 2 hours, you'll never be tethered to a wall outlet for long.
* Battery tests are conducted by the Unihertz Tech Lab. All battery claims depend on the cellular network, location, signal strength, feature configuration, usage, and many other factors; actual results will vary.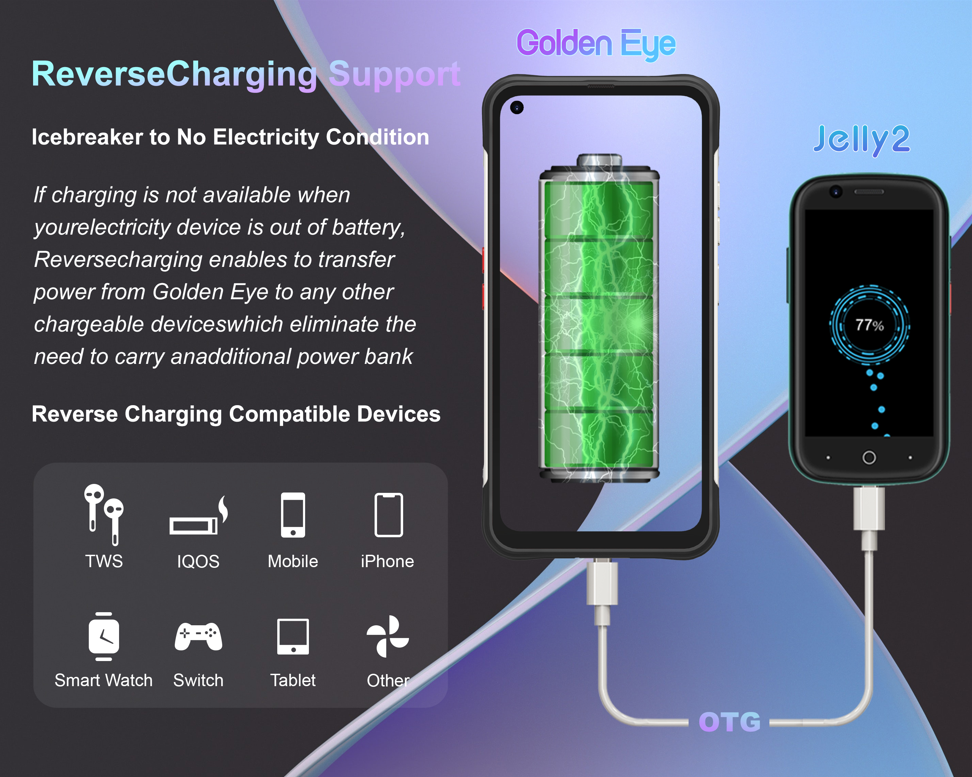 Illuminate Your World With the Camping Light
Golden Eye's camping light is your reliable source of powerful light, with 3 modes to suit any situation. Whether you're camping, hiking, or need a reliable light source for home repairs and power outages, our flashlight has got you covered. Please keep in mind that the light is too bright to look at directly!
Lightning-Fast Speeds under the 5G Smartphone and Powerful Processor
Harness the power of our 5G smartphone with the Dimensity 700 Octa-Core processor, delivering lightning-fast speeds up to 2.2 GHz. Stream high-quality videos, download large files, and experience the future of mobile technology. Upgrade to our smartphone and harness the full potential of 5G today.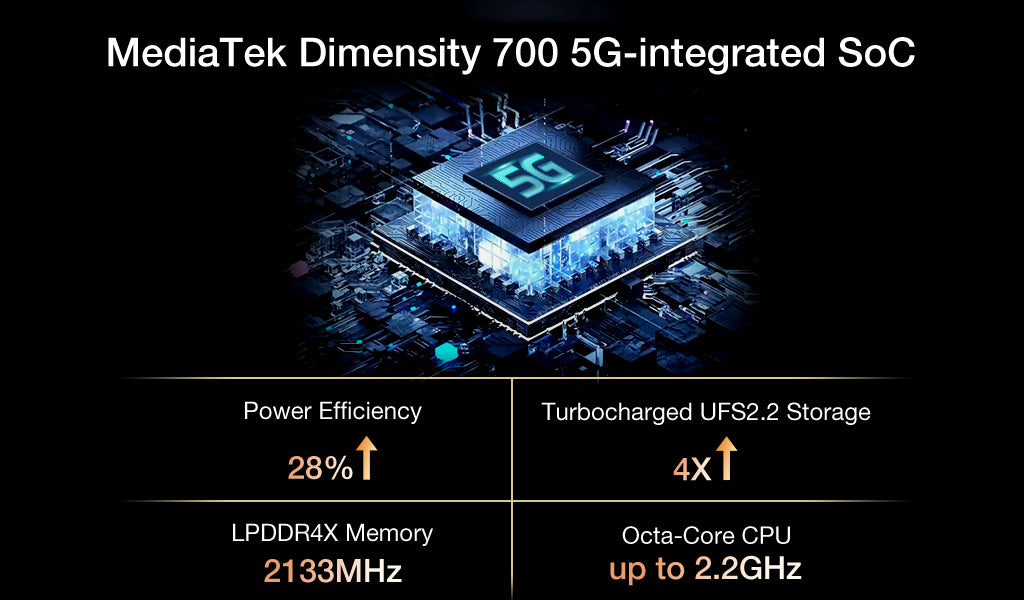 Android 12: Experience a Faster, Smarter, and More Private Mobile World
Upgrade to the latest Android 12 operating system and experience a whole new level of performance, security, and customization. With enhanced privacy features, smoother animations, and seamless integration with Google services, Golden Eye powered by Android 12 is the perfect choice for those who demand the best.
Capture Life's Moments in Stunning Detail
Equipped with a 64 MP rear camera and a 32 MP front camera, Golden Eye's camera system can meet your needs from breathtaking scenery to stunning selfies. Additionally, with advanced autofocus and 2 MP macro lens capabilities, you can get up close and easily capture the beauty of the smallest details and textures, opening up creative shooting angles.
Immersive Experience With A 6.53-Inch Large Screen
Enjoy the shock of the super-large 6.53-inch screen when watching movies, games, and web pages. Whether watching a movie, playing a game, or browsing the web, every frame of the image is full of life, making you feel like you are in it. And with powerful high-definition resolution and excellent color performance, you can enjoy every visual detail, making the experience more immersive and real.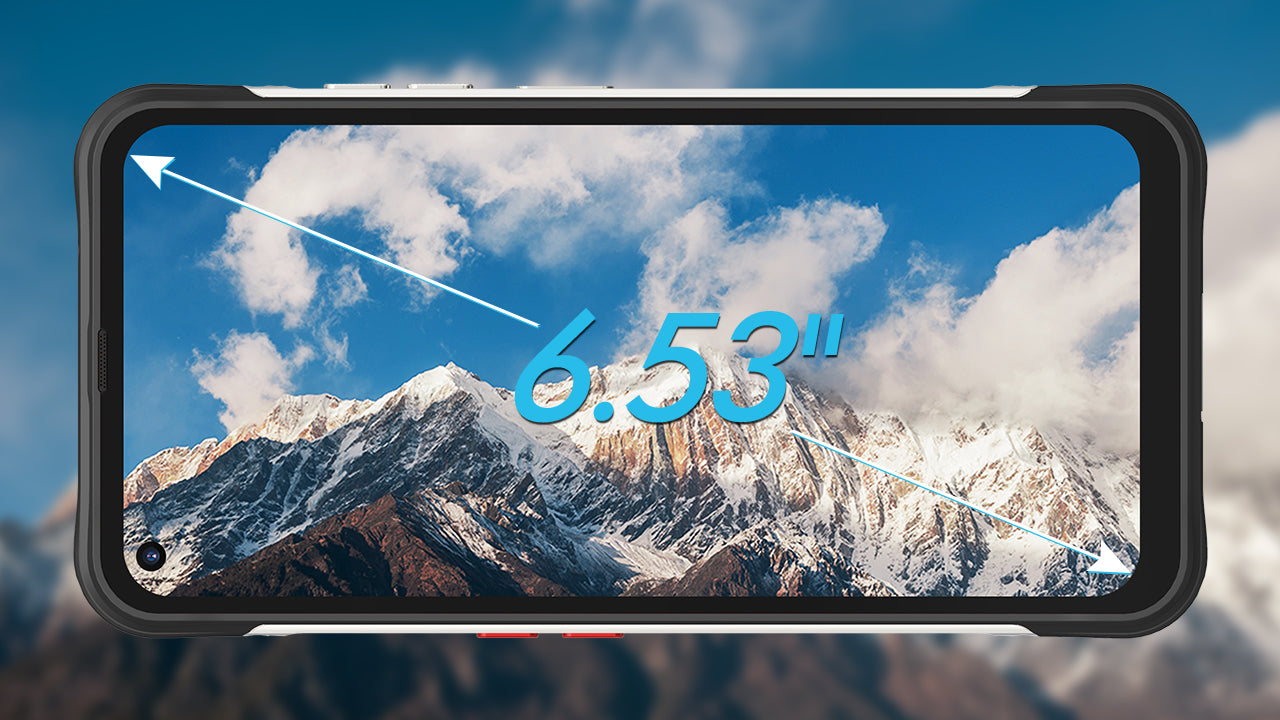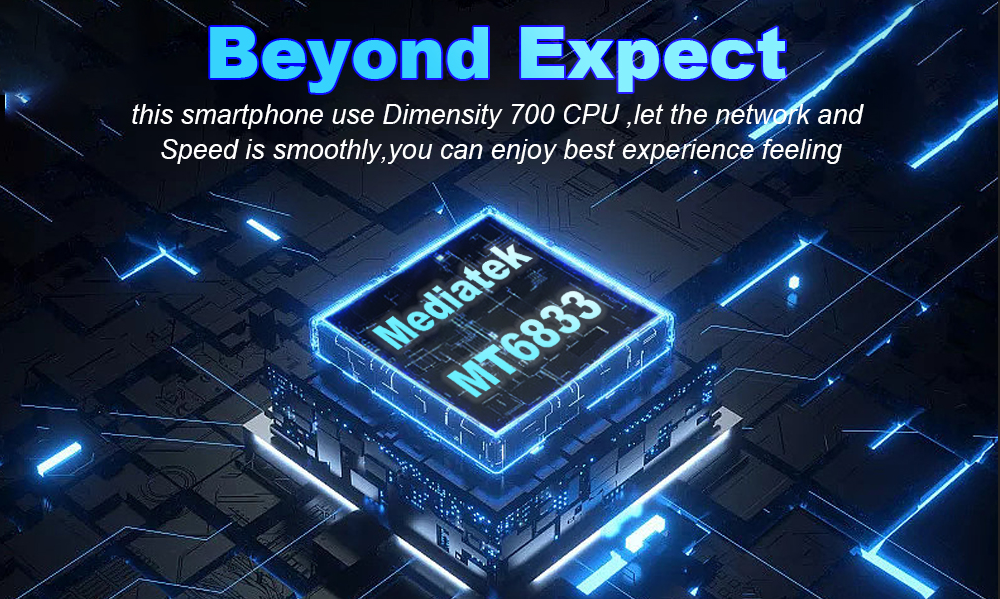 Massive Memory for Maximum Multitasking
Experience limitless possibilities and enjoy seamless performance. With 8 GB RAM and 256 GB ROM, Golden Eye offers smooth operation, multitasking capabilities, and ample storage space to meet your daily life and entertainment needs.